4 alternatives to Zwift: advantages and disadvantages
If you're looking for a virtual cycling platform, you've heard of Zwift. Without a doubt, it is the great beneficiary of this sudden and forced boom of virtual cycling. But Zwift is not alone in this new world. Here you can find 4 other options as interesting as Zwift itself.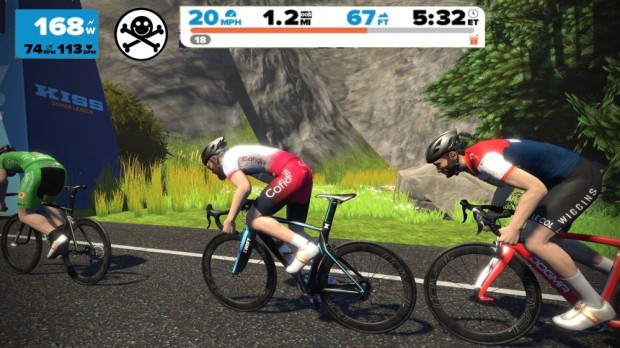 4 alternatives to Zwift
The first option is Bkool. It is quite well known, especially since it has also been a manufacturer of turbo trainers.The brand recently decided to leave manufacturing aside and focus on its cycling simulator. It is a clear competition to Zwift, but it has some disadvantages that they will surely be trying to save in order to boost the software.
First of all, if you have a Bkool turbo trainer, everything will be much easier for you. For connectivity, features and sensations. They are very good for a realistic experience within the program, they even simulate slopes and their ease of assembly and disassembly is evident. Besides, they have a great design.
A Bkool turbo trainer can also be used with Zwift, but in its native application it is more complete. The main details of this alternative to Zwift are as follows.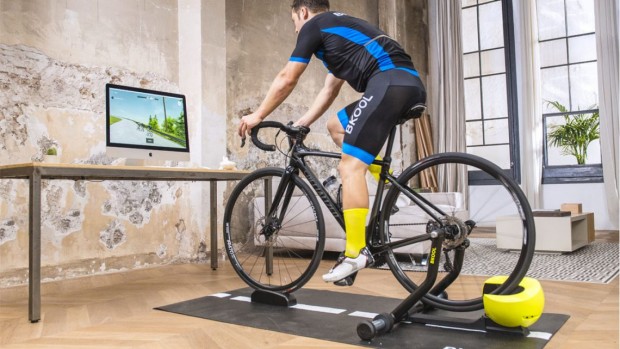 First of all, the price. The free version is very limited in Bkool, with no features or even a 3D view. That's why, if you have invested in a quality turbo trainer, it will cost you very little to register for its premium version. And it must be said that the Premium version is very worthwhile. It costs 9.99 euros per month, but if you sign up for a full year, the monthly price drops to 8 euros. For that price you have the possibility of running in all the circuits, alternating the views (simulator view, first person view with real images, and map view of the route). The realistic first-person view is built with real images. Therefore, it has many absolutely real routes, that's a plus.
You can ride either in stages or solo on these courses. But the social aspect is limited. Rather than going out in a group, it will be a choice between going alone or taking advantage of everything you find.
On the other hand, it must be said that the graphics need slight improvements, it becomes monotonous sometimes.
Rouvy calls itself the world's leading virtual cycling platform. It is true that it has been working in this field for a long time, but we do not know the number of users to make a comparison with Zwift.
It has important differences with the rest. The strength and focus of Rouvy is augmented reality. It is based on recording real images of the route, and then virtually overlaying you when you are pedaling on the platform.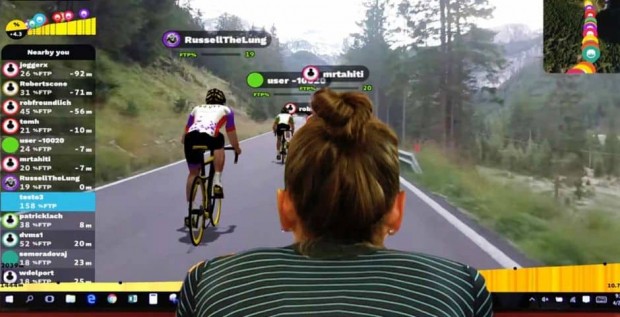 This platform does allow meetings -as in Zwift- with your colleagues or friends. Its price is the same as in Bkool: 10 euros per month. If you want to check Rouvy, you have 2 weeks for free to do so.
We insist: as an alternative to Zwift for pedaling on totally real roads, it is a very interesting option. In fact, you often go out riding just to see the scenery and get away with it. In that case, Rouvy is perhaps the best option within the range of cycling simulators. If you're into triathlon, go for this one, because as an official Ironman sponsor, Rouvy makes the courses available and is very active during triathlon events.
Their free version is perhaps the most complete of all these options. You will also ride on realistic tracks and circuits, with images of 8 mythical stages that you can use as many times as you want at no extra cost. Best of all: they announced that during the quarantine, the complete simulator is free. It's a good time to try it out.
We have to insist that the free version is complete, very complete compared to the competition. However, the paid version is more expensive than the rest: 14.99 euros per month for a platform that, although as we say, is very good in terms of realism, still suffers from a lack of profiles. Its price is 50% more expensive than the previous options or Zwift. In addition, it requires a device (computer, smartphone or tablet) with enough power to support its image.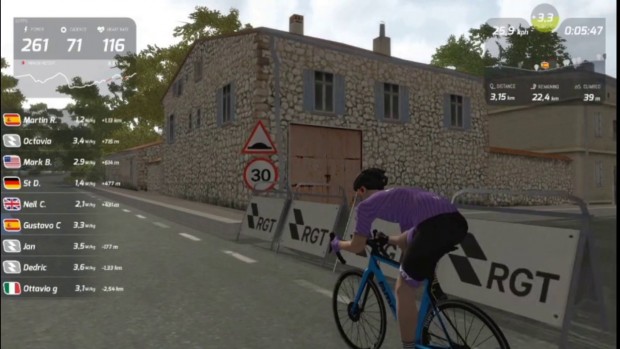 For these two reasons we qualify it as a higher-ranking option. It is certainly a different strategy, aimed at a different audience. It's RGT Cycling's bet. There are group events too, as well as competitions. If you are looking for something similar to Zwift, maybe RGT Cycling is the most similar.
Each application has its own header brands. The Sufferfest was acquired by Wahoo two years ago and its goal was clear: no cycling social network, but a very complete training platform.
Today it is much more than that, but it still maintains its identity as a cycling training platform, something that is far from Zwift but also from the rest of the virtual cycling software.
You can even use it without a smart turbo trainer or sensor. In other words, while any of the applications we propose can be used with a normal turbo trainer by placing speed and cadence sensors at least, The Sufferfest allows you to roll and let you adapt your turbo trainer to the conditions.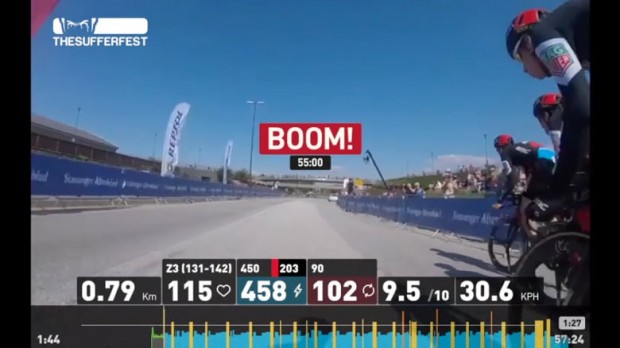 Think about this platform if your goal is just to train hard, away from all social interaction and simulation. Its 4DP system will tell you what your cycling profile is and will propose your training plan, a training that becomes immersive. That is to say, with real images while you ride, that is their type of simulation. Its price, $14.99 per month, although with the annual plan you can use it for 129 and save 50. You can try the free version for 2 weeks.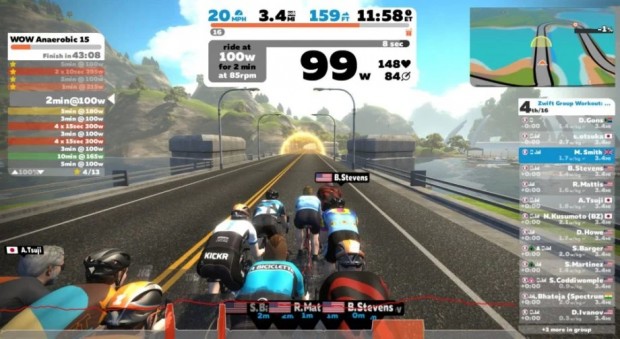 The rise of Zwift during the coronavirus crisis
Zwift's success has been growing and exploding in this Covid-19 pandemic. Many cyclists were prepared, and right now Zwift is their evasion at home. For most, this has caught them off guard and they are desperately looking for ways to enter this universe of virtual cycling.
So these are the four options you have besides Zwift. Here are the facts, now the decision is yours.