The 9 best apps for cycling and mountain biking
Riding a bike and going out to pedal without worrying about anything else is a real pleasure, but there comes a time when, either out of curiosity or because we want to improve, we start to get interested in getting information or in going on unknown routes. Data such as maps, distance travelled, the difference in level, time spent, heart rate, average speed, etc. are very useful for improving our performance and getting to know new places. Here are our 9 best apps for cycling and mountain biking.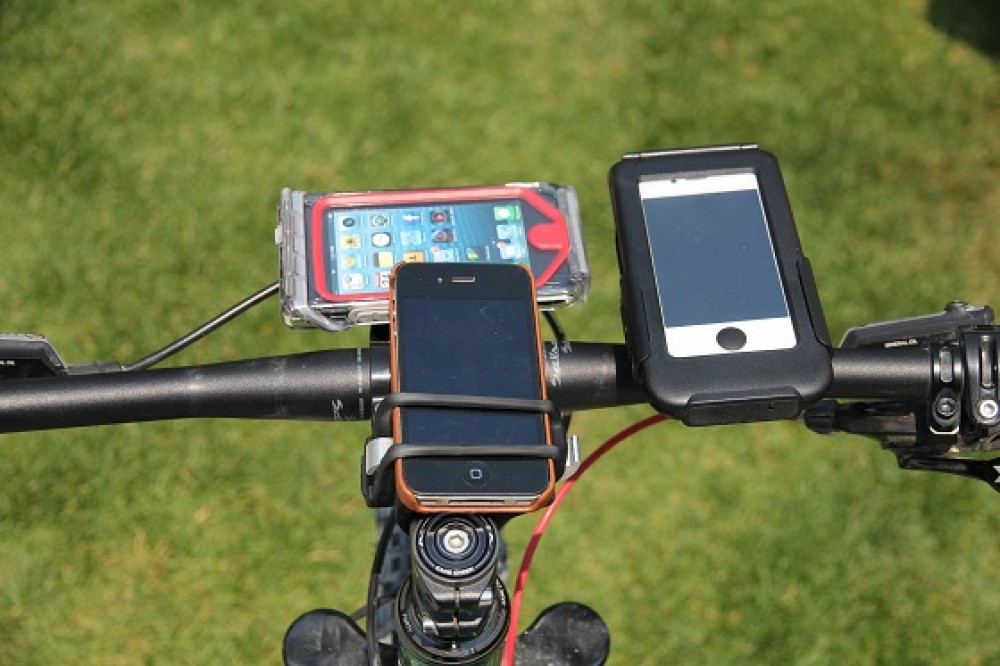 9 cycling and mountain bike apps to keep in your smartphone
In the past, if you wanted to have this information it was essential to buy a GPS, but today that we all have a smartphone in our pocket is enough to install some of the apps that we are going to recommend you to start collecting data. With any of them you'll be able to measure all of your trips and have all the information you need to improve your performance.
There are thousands of such applications, so we decided to make a selection and highlight the ones we think are most interesting.
1. Strava, our favourite and the favourite of thousands of athletes
Although with the recent update some free features have been lost, it is still our favourite application to record, measure and share the data of our bike training.
One of its strengths is that it is free, but what is really interesting is the huge community it has generated and which we can take advantage of to find new routes or motivations. Its interface is simple and shows the most relevant data in an orderly way, but as we have already said, perhaps the most interesting thing is the social interaction it facilitates.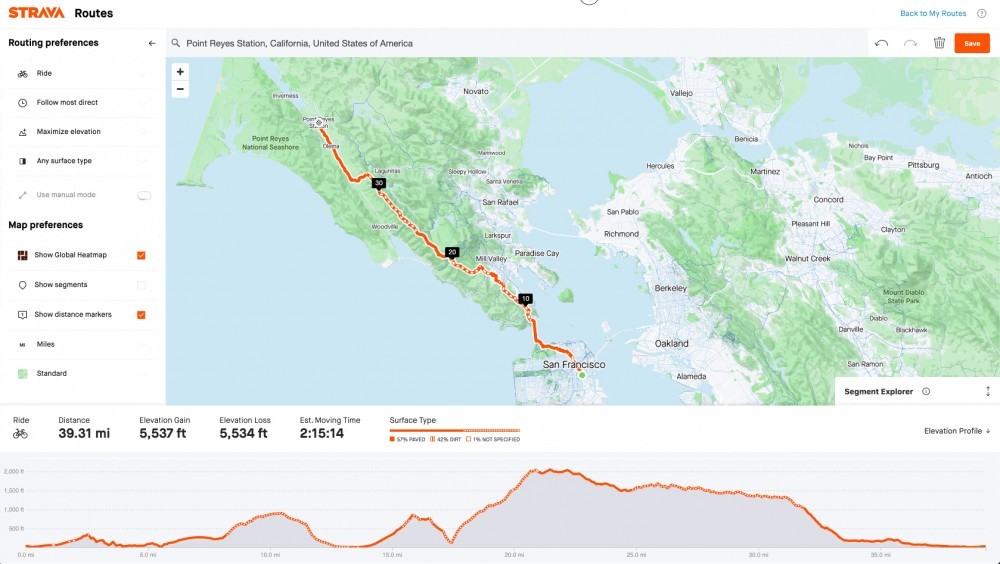 Some of the best professional cyclists in the world are registered at Strava and if you want to know what their training values are you only have to check them from your mobile phone.
It is available for free for both Android and iOS.
Download Strava for iPhone. Download Strava for Android.
2.Komoot
Now available in Spanish, Komoot is an app that has become very popular in a short time and they claim that it is already the most used in Europe for route planning. It is a 100% application designed to trace and discover new routes, especially in nature.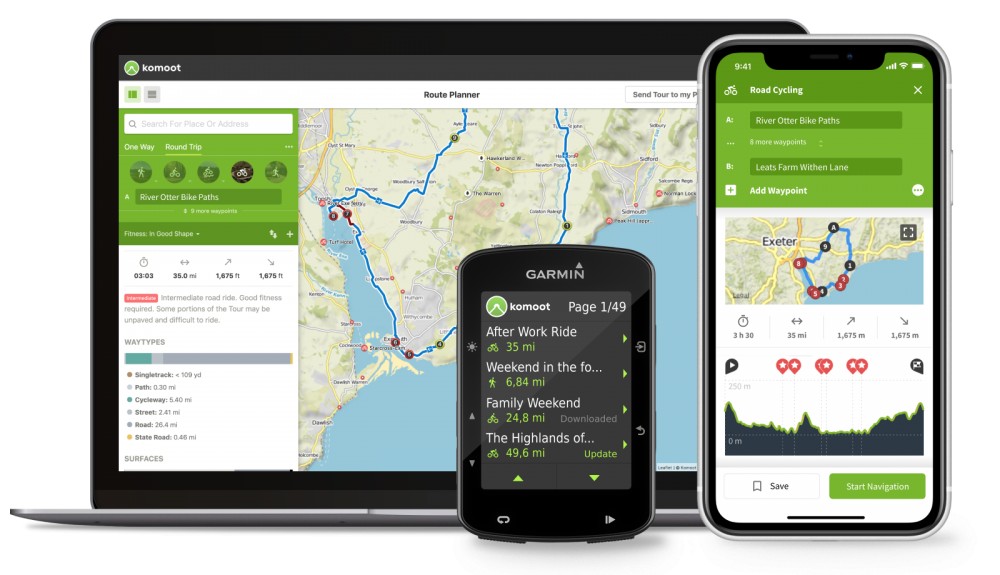 Komoot is free but to use it offline you have two subscription options. Here you can download it and get more information.
3.Brujulabike
Within this selection of apps we are going to include the new Brujulabike application, a very comfortable way to have all our information, also offline. The brujulabike app is optimized for the user to have the best experience when reading our content from his mobile device.
Download brujulabike for Android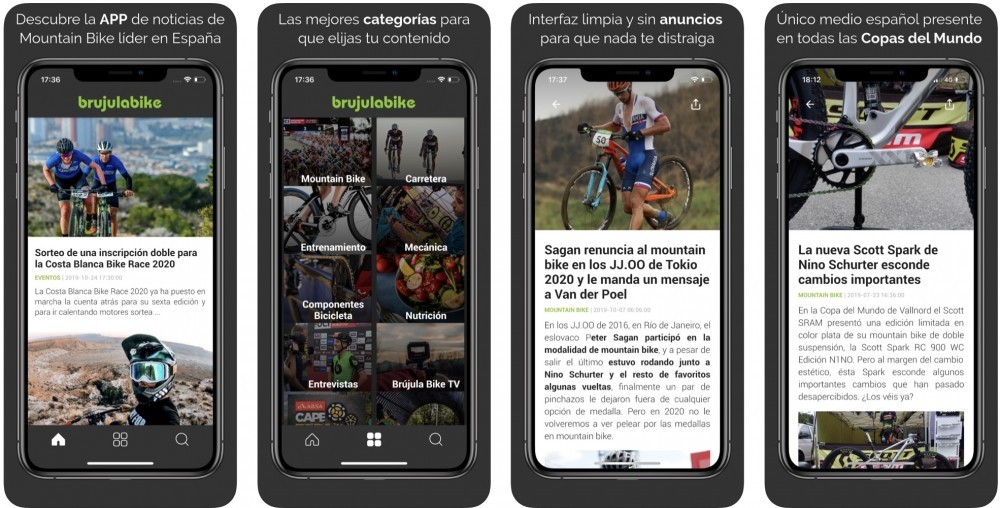 4.Trailforks
With this app we will be able to discover many downhill or enduro sections near our location. It has been developed by Pinkbike and it is very useful to find the best enduro trails in each area. Also the routes and maps can be downloaded for use offline
Download Trailforks for Android
5. BikenearU, the application against cycling accidents on the road
Accidents of cyclists on the road are one of the biggest concerns when it comes to riding, so this application has a clear objective: to reduce mortality on the roads. BikenearU is an app that warns the driver of the proximity of a cyclist and vice versa, in order to take extreme precautions.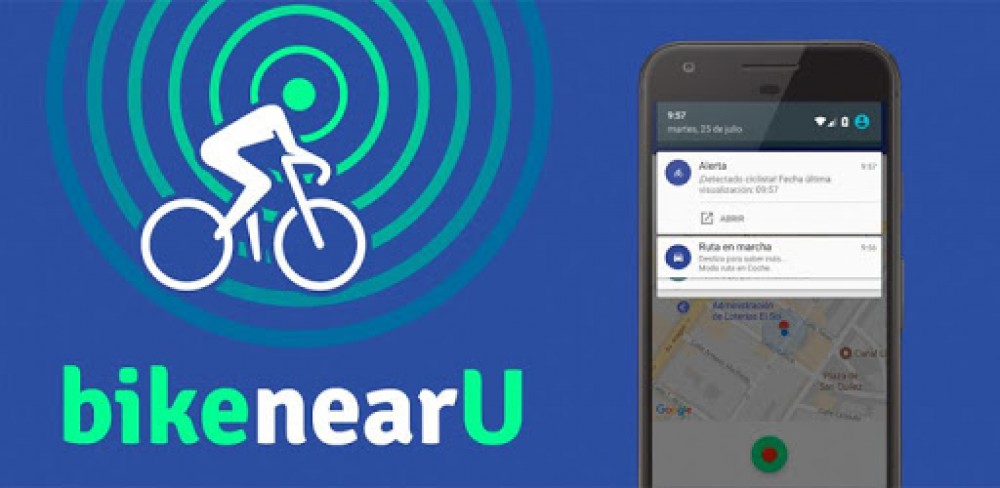 If we succeed in spreading the application among drivers and cyclists, the safety will be greater. It is available for iOS and Android. 
6. Alpify Safe 365, the app that can save your life
This application is one of those that everyone should have installed on their mobile, whether they are sportsmen or not. At first it was born as an app for people who will be doing mountain activities so that their relatives can locate them, but its good functionality has made it extend to all kinds of people.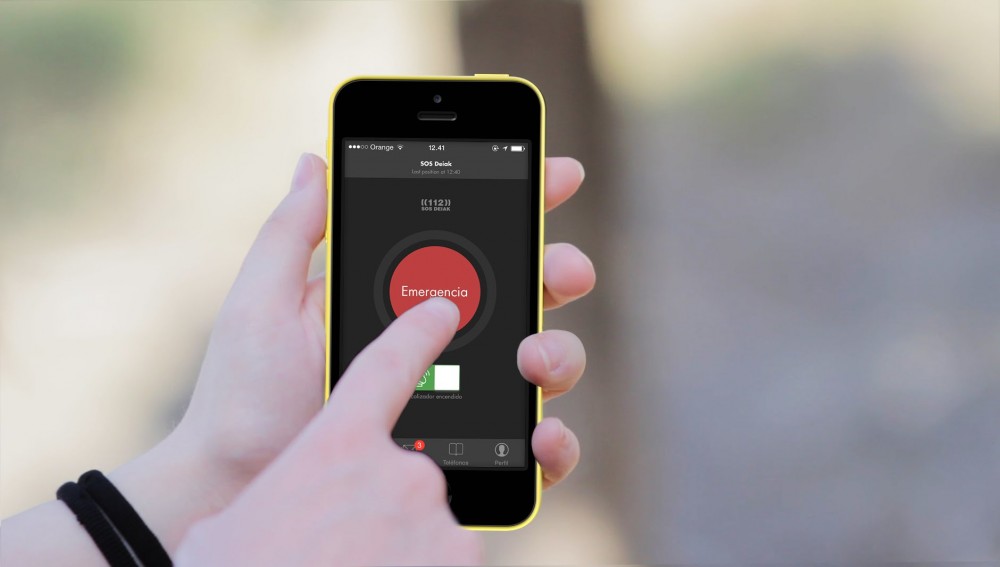 The application has a button that just by pressing it can alert the family member you want and directly to the emergency center. Even with the phone out of coverage it will send your geolocated position to be rescued in case of an accident.
7. Bike Gear Calculator. The app for setting up your bike's transmission
Bike Gear Calculator allows you to compare different settings for the transmission of your road bike or mountain bike, and depending on the applied cadence to know at what speed we will ride and how long we will travel over a given terrain.
There are other apps with similar functionality, but none as complete, fast and easy to use as this one. You only have to fill in the requested fields and the application will do the calculations for you in a matter of seconds.
Download Bike Gear Calculator for iPhone
Download Bike Gear Calculator for Android
8. Saddle Adjust, did you know that you can adjust your bike seat with your cell phone?

If you're tired of putting your saddle up and down without finding the right position, the Morgaw Saddle app can help. Simply install it on your mobile phone and place it on the saddle (including the appropriate parameters first).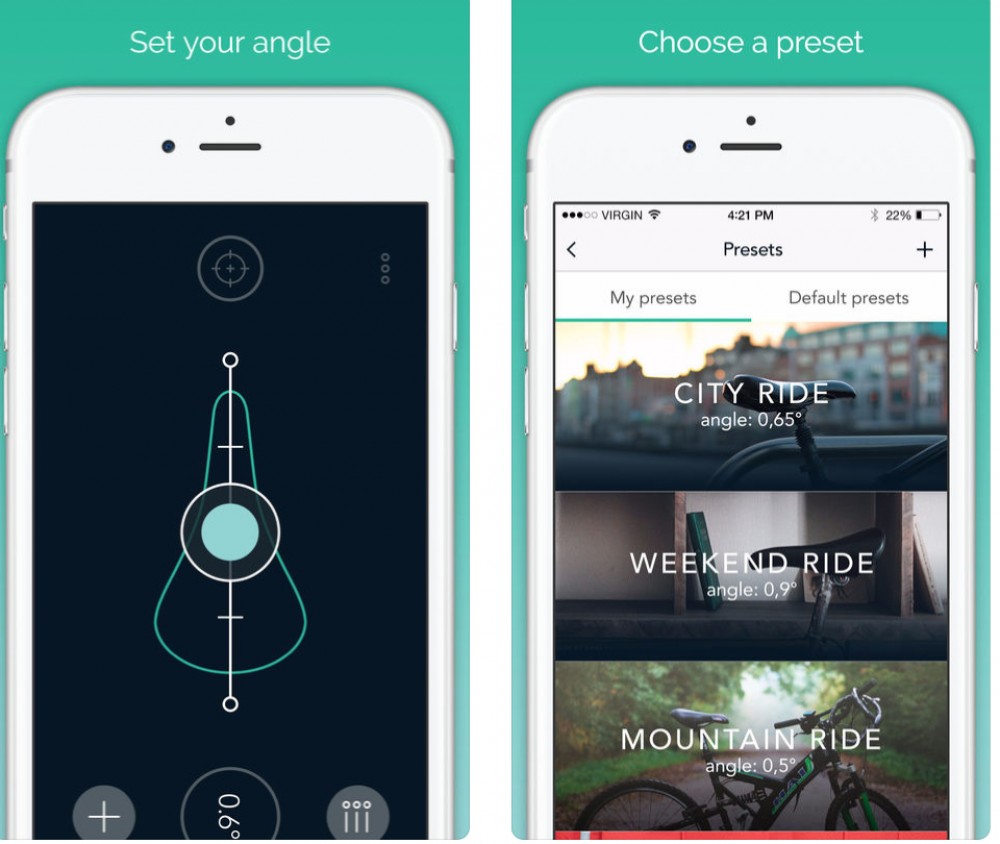 Download Saddle Adjust for iOS
Download Saddle Adjust for Android
9.Google Maps
Surely Google Maps is known by the vast majority and in fact almost all of us have it installed on our mobile phones, but we believe that it is one of the essential for cyclists because of the possibility of downloading the maps to be able to consult them offline. Another lifesaver that we should all carry making sure we have downloaded the maps of our usual area.
Download Google Maps for Android
What do you think about our selection of apps? I'm sure we've left out a lot that you consider indispensable, tell us about it on social networks and we'll be adding them.