We test the GT eForce AMP, pure electric fun
A legendary company like GT, Shimano electric motor, 150mm LTS suspension and a bike designed for pure fun. We have had the chance to test GT's top electric bike: the GT eForce AMP.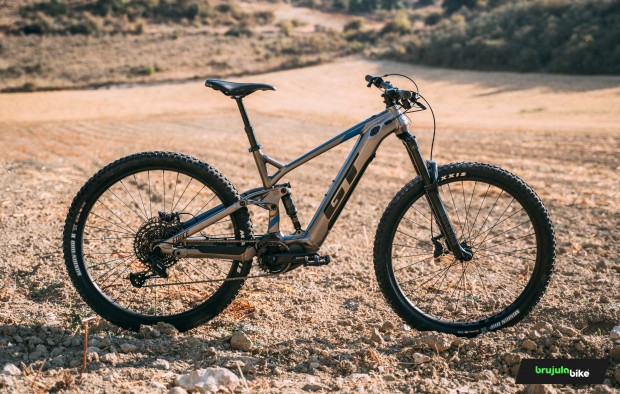 GT eForce AMP: designed to have fun
GT presents us with a very elaborate design for its electric Force. With 29" wheels, 150mm of travel, Shimano STePS EP8 motor and an integrated 504Wh capacity battery.
GT's LTS platform has been used for the suspension, in fact, the aim has been to make it as similar as possible to its muscular Force version, but taking into account the particularities of an electric bike with all that this entails.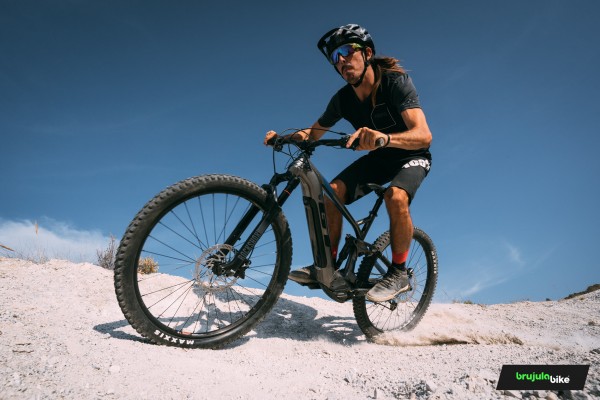 For example, on an electric bike the torque that is transmitted to the rear wheel is much more constant than with natural pedalling, so the bike does not suffer as much oscillation with each pedal stroke. This is why the GT eForce AMP has reduced the Anti-Squat, giving the rear a greater sensitivity that allows us to have unparalleled traction on technical climbs.
In terms of braking, a balance has been sought with the Anti-Rise, maintaining a low interaction between braking and suspension, avoiding the "braking bumps" effect that is produced when the wheel loses contact with the ground during braking, but it has not been made as independent as in the muscular Force, seeking a certain benefit in terms of weight transfer during braking, which is something to be taken into account in an e-bike. 
As you can see GT has taken suspension behaviour very seriously.
Looking at the details of the frame, we see a very solid aluminium construction, with a really impressive swingarm and linkage. This linkage is anchored to the shock with a Trunnion mount for greater stiffness.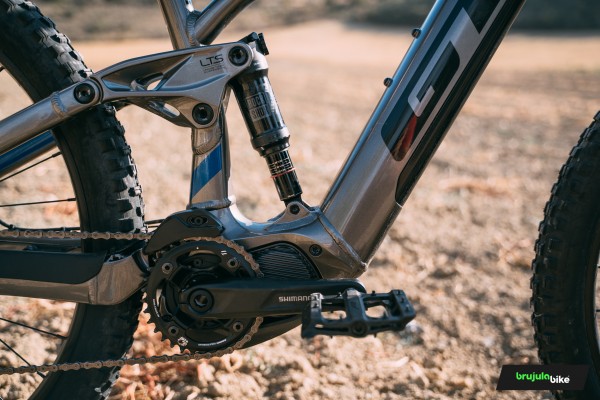 The diagonal tube also has considerable dimensions to house the battery, which is accessible by removing a cover that occupies almost the entire lower part of the tube. To remove this cover, no tools are needed, but to remove the battery from its housing we need its key.
The engine is also very well integrated in the lower part of the frame with a very discreet aesthetic result.
The option of mounting a bottle cage is also welcome, although it will have to be a side-entry bottle cage and does not accept very large bottles.
As a curiosity we have to say that this GT makes a reference to the past by keeping its triple triangle in the seat tube area, although it is different from the design that became famous back in the 90s.
A modern geometry with a clear tendency to wildness
The eForce is at the cutting edge of geometry. It has a very vertical saddle angle of 76º that places us in a perfect position for attacking pedalling, which will come in very handy when tackling technical climbs.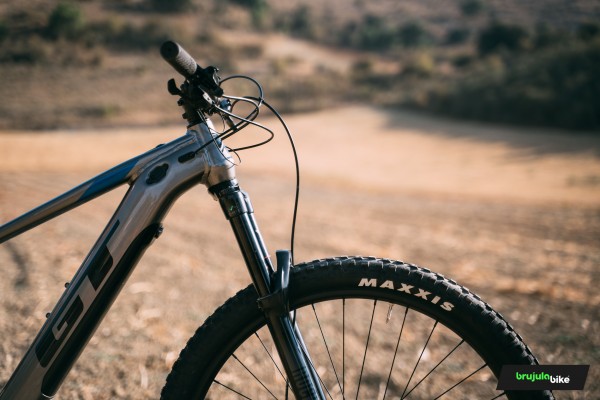 The steering angle is relaxed to 65 degrees for stability and poise at high speeds. This relaxed angle, combined with the weight and characteristics of an e-bike, suggests that the eForce will excel in the wildest and most aggressive territory.
The rest of the measurements are in line with the current trend, with a 45cm reach in size M, which allows us to combine it with a 35mm stem while maintaining a balanced position.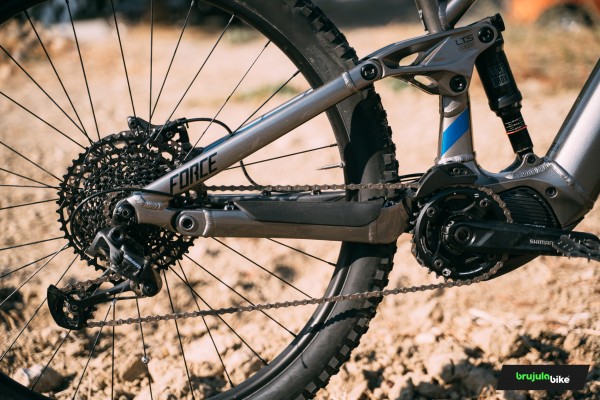 Its 455mm chainstays are in line with similar e-bikes, as well as its 349mm bottom bracket height.
The steering angle means that the wheelbase is long, at 1234mm in size M which, again, orients the bike towards poise and stability at high speeds.
Shimano EP8 engine. Maximum power in minimum space
The heart of the GT eForce AMP is driven by the Japanese giant's biggest exponent. The Shimano EP8 motor delivers up to 85Nm of peak torque in a very compact size and weighs just 2.6kg.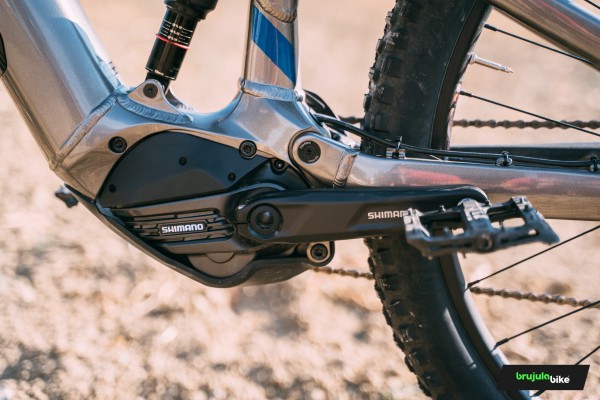 Its small size allows it to maintain a wide ground clearance to negotiate large obstacles. Even so, it is very well protected with a very solid-looking metal casing that keeps it safe from stone impacts.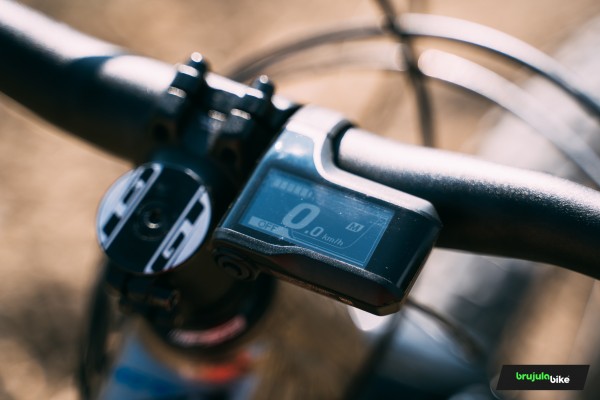 This new EP8 motor is customisable through the Shimano E-Tube application. It allows us to configure each assistance mode in the level we want from 10% to 100% in steps of 10 by 10. Also in each one we will indicate the maximum torque we want it to reach and the speed of response that the assistance will give us in each mode to adapt everything to our preferences. We can also configure the data we want the display to show us on each of its screens.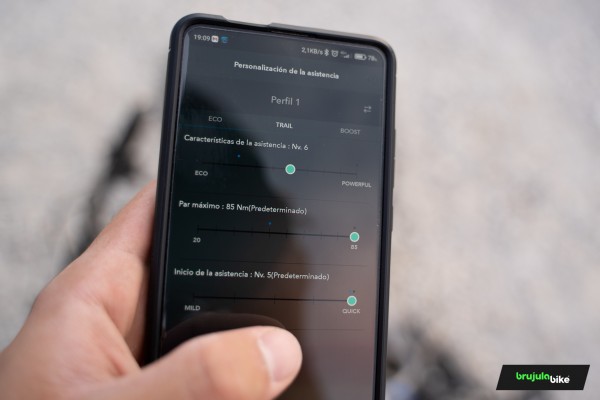 The truth is that the Shimano E-Tube application is the best we have seen so far for E-bike engines with a very attractive and user-friendly interface.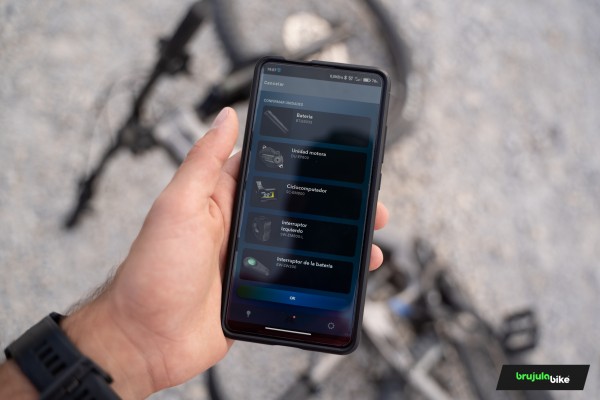 We really like the display, which is not excessively large and is discreet and protected from knocks and bumps. The definition of the colour screen is very good and provides us with the information we want very clearly.
Assembled to ensure nothing goes wrong
The GT eForce AMP features a set-up with no julo components, proving that a good selection can give a bike great performance.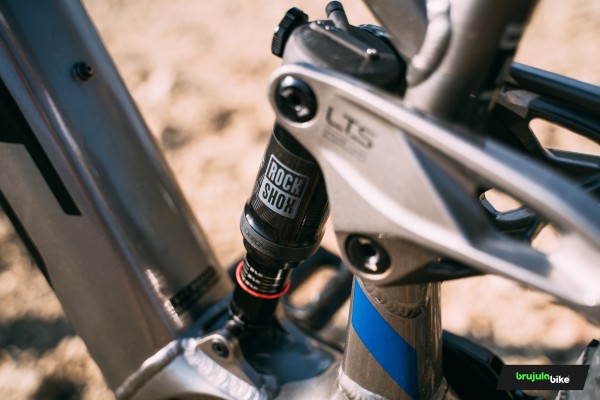 Starting with the suspension, its Rock Shox Deluxe Select R shock is simple, but it fits perfectly on this rear suspension.
The fork is the RockShox 35 Gold RL, an entry-level model but with a performance that surprised us greatly.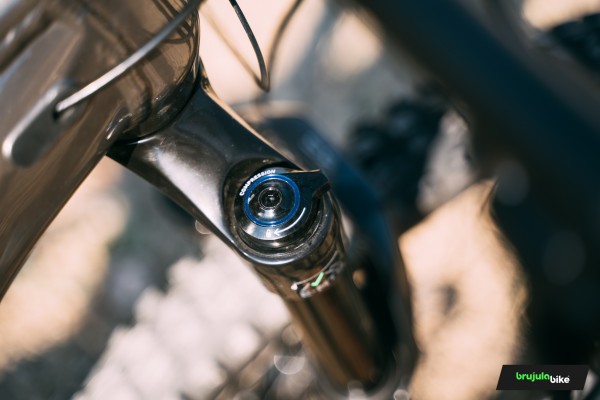 The wheels combine Shimano hubs with WTB STX i30 rims, 30mm internal width very suitable for combination with Maxxis Minion 2.6" wide tyres. The tyres come with EXO+ casing and 3C Maxx Terra compound.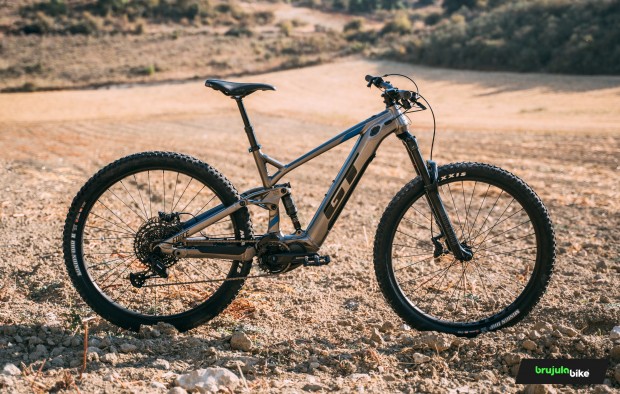 The brand's own components gave us a good impression, as did the WTB saddle, which we found comfortable.
What we didn't like was the choice of a dropper seatpost with only 100mm of travel. We missed something more at times, but the TranzX Dropper performed excellently.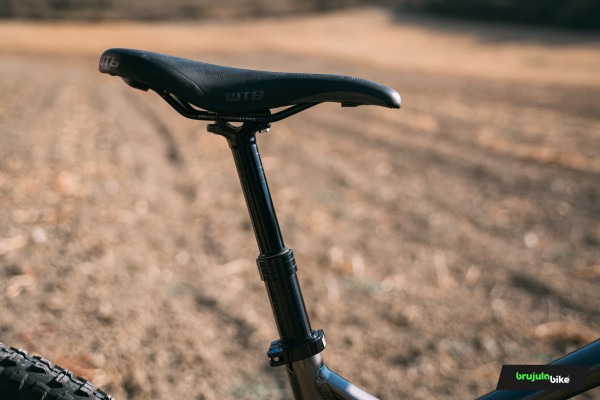 As for the groupset, the SRAM Eagle SX has been used, a rear derailleur that does not fail in its task but we are left wondering how it will stand the test of time.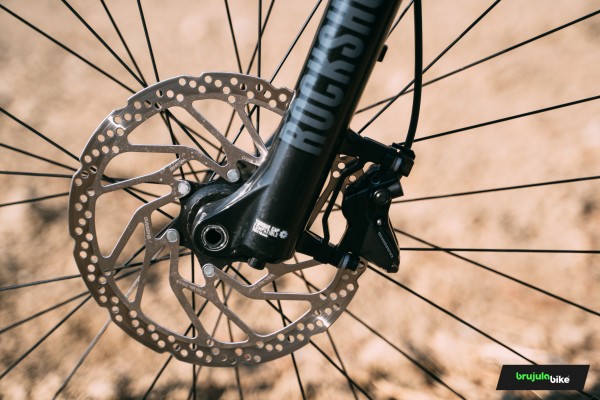 The brakes are also from Shimano's entry-level low-end range. These brakes combine MT420 four-piston calipers with MT401 levers and 203mm discs on both wheels. They have outstanding power and performance, but we didn't like the lever design, which is too long and not at all ergonomic for one-finger braking.
With this set-up the GT E-Force remains at 23.55kg without pedals once it is tubeless.
Riding with the GT eForce AMP
Once riding the E-Force we are comfortable from the very first moment. The riding position is balanced. The handlebars are high enough to be upright and in control but not too high, allowing us to pedal efficiently.
It is also clearly noticeable that the saddle angle is so vertical that it positions us above the bottom bracket.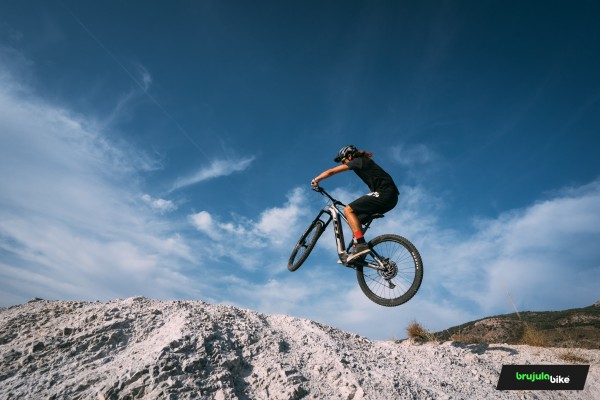 The assistance from the Shimano motor feels very natural, even using the fast response speed and as we can set the different modes in an instant via the smartphone, we will always have the appropriate levels of assistance for each route according to our preferences.
The engine when running and assisting makes a slight humming noise, not the quietest engine we have tested, but in line with the rest.
Once we were familiar with the eForce's assistance and setup, we put it to the test on technical climbs. We have to say we were impressed. The rear suspension tends to be quite active and that when the terrain is broken gives us traction, which together with the power of the Shimano EP8 motor allows us to climb any tricky trial.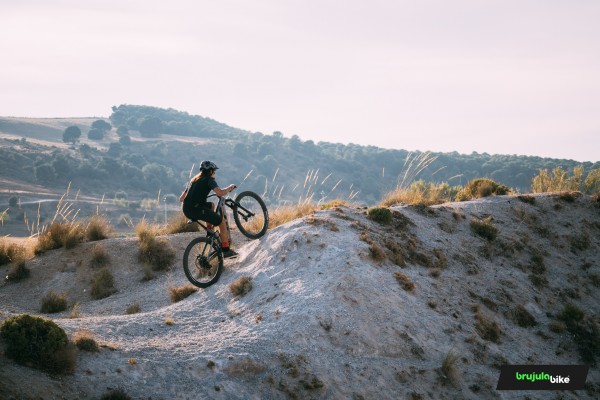 When the bike becomes a bit more difficult to handle is at very low speeds and on broken terrain. Here you notice its 23kg weight and its steering angle, which makes the bike have less nerve, but as soon as you give it some inertia, everything changes for the better.
As we took to the first downhill trails the eForce brought a smile to our faces. The rear suspension performance is excellent, absorbing all small and large impacts with authority and offering excellent control and rear grip.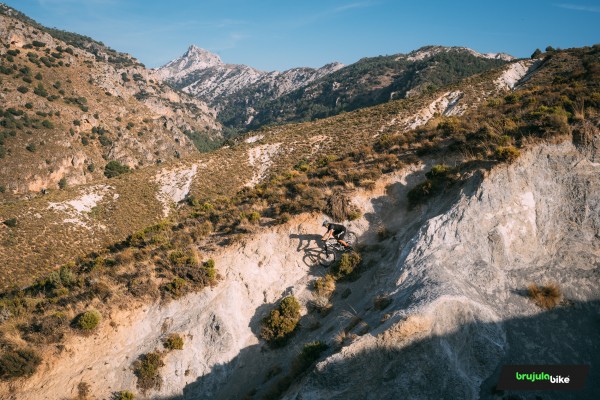 As for the RockShox 35 Gold RL fork, we have to say that it has behaved quite well, even though it is the brand's entry-level model for this modality.
We had previously tested other versions of this model and had not found it to be a smooth and responsive enough fork, but this Gold version with Motion Control cartridge and DebonAir tyre system has given us a smooth, responsive performance with the necessary absorption capacity for a bike whose natural habitat is difficult terrain.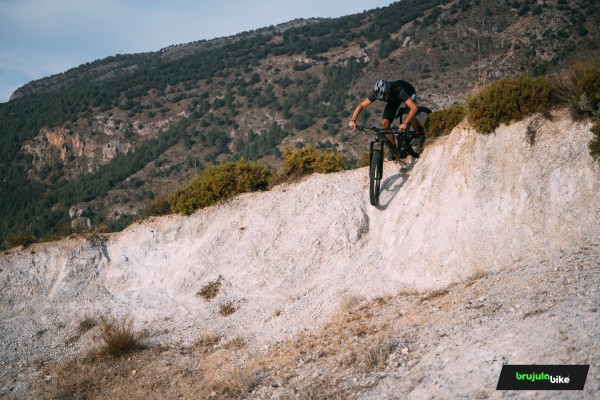 Once we get into action, we let the bike run and this is where it shows us its true qualities. Its downhill geometry, combined with the weight of an e-bike and the poise that comes with it, makes us descend with amazing confidence. In high speed corners it offers great grip and as long as we carry some inertia the bike can be handled with ease despite its weight. In this aspect the balanced and comfortable position we adopt on the E-Force helps us a lot.
There are also some details that we didn't like, such as the battery cover, which makes a bit of a noise when riding in bumpy areas. The design of the brake levers, as we said before, doesn't seem ergonomic because it's too long. It's something you get used to, but we would definitely change it. And finally, when we have faced steep downhill slopes we have missed some more travel in the dropper seatpost.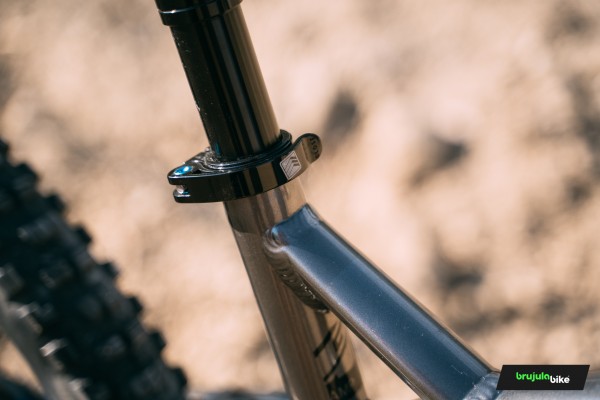 As a curious detail, the seatpost comes with a quick release instead of a bolt. This can be a good option if the bike is going to have more than one user, as long as you are careful with the internal cable when adjusting the height.
The GT eForce AMP has also proven its versatility when it comes to riding routes that are not very technically demanding. It's a very comfortable bike and we can ride it for hours without any problems. In these cases we did miss a lever on the shock absorber to minimise oscillations or even a lockout.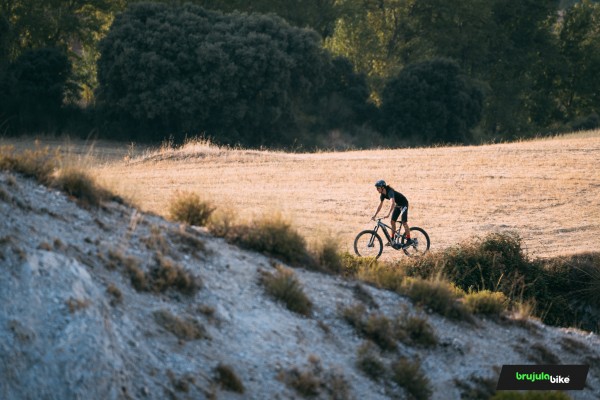 In the case of e-bikes, although this type of bike with a long suspension travel may not be the most efficient for riding on trails, with the assistance provided by the motor we can do it without any problem and we also have a plus of comfort and the security that if we go through a complicated stretch we have a bike capable of everything.
Final conclusions
After testing the GT eForce for a while, we have been able to see that a legendary company in the MTB world like GT has a lot to say today. It presents us with a bike that is up to date in all aspects and that still has that racing and playful character that has always characterised the brand.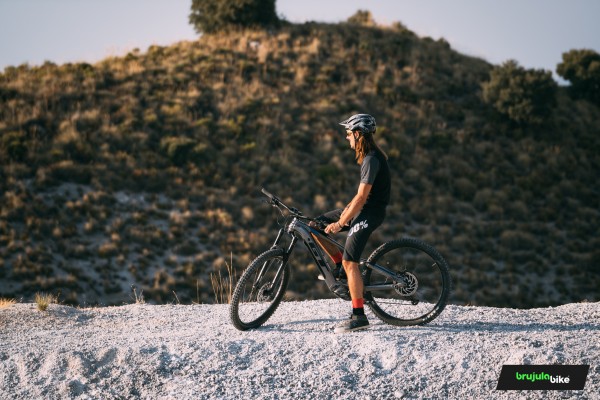 The eForce will delight enduro riders looking to devour trails as well as riders who want an e-bike capable of increasing their capabilities and allowing them to handle all types of terrain.
GT eForce AMP Specifications and Pricing
Frame: eForce Alloy 29" 150mm
Fork: RockShox 35 Gold RL 150mm
Shock: RockShox Deluxe Select R 185x55 Trunnion, Debonair
Motor: Shimano STEPS DU-EP800 250W
Battery: Shimano STEPS BT-E8035, 504Wh
Chain: Sram SX Eagle, 12 speed
Cranksets: FSA CK-752
Derailleur: Sram SX Eagle
Shifter: Sram SX Eagle
Cassette: Sram SX Eagle, 11-50, 12 speed
Rims: WTB STX i30, 32h, tubeless ready
Hubs: Shimano MT400
Tires: Maxxis Minion DHF/DHR2, 29x2,6", 3C Maxx Terra, EXO+
Brakes: Shimano MT401 levers, MT420 caliper, 4 pistons
Handlebars: GT All Terra Riser, 15mm rise, 780mm
Stem: GT All Terra
Saddle: WTB Silverado Sport
Seatpost: TranzX Dropper, internal routing, 31,6 
Price: 5.199€
Further information can be found at www.gtbicycles.com