We visit JotaKicks studio, where any pair of shoes becomes exclusive
Limited editions and collections are selling out faster and faster in cycling and shoes are one of those fetish elements in this sport. JotaKicks is in charge of turning any pair into a completely exclusive one. We had the chance to visit his studio, talk to him and get to know a little more about this world apart from the designs and colours in the catalogue.
JotaKicks and the art of customising cycling shoes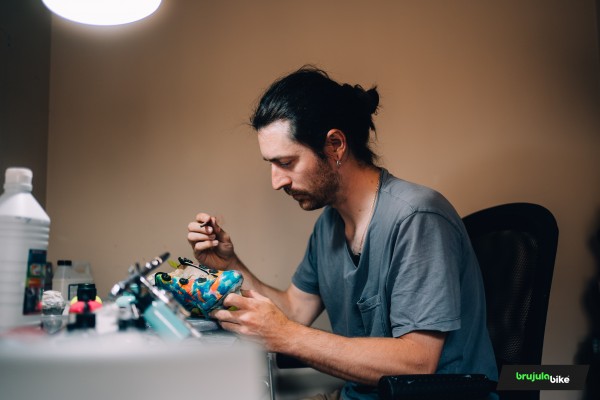 In road cycling and mountain biking, aesthetics play a fundamental role and many of those who say otherwise are lying. There are some cyclists who are looking to break away from the established brands and want to have something original that represents them, something that can't be found in any shop or browsing the internet. This is where the art of JotaKicks resides.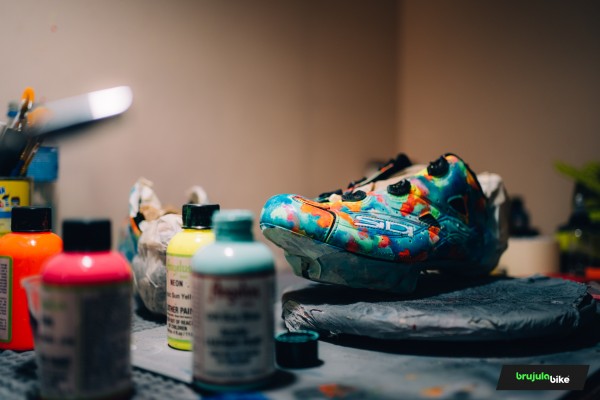 JotaKicks is the nickname of Julio López, a creative designer and cycling enthusiast who has been customising cycling shoes for just under 2 years. His Instagram account is practically an art gallery where he exhibits each of his works, and in it we find cycling shoes of all kinds converted into unique models that represent 100% of their user, no matter the brand, the range or the modality.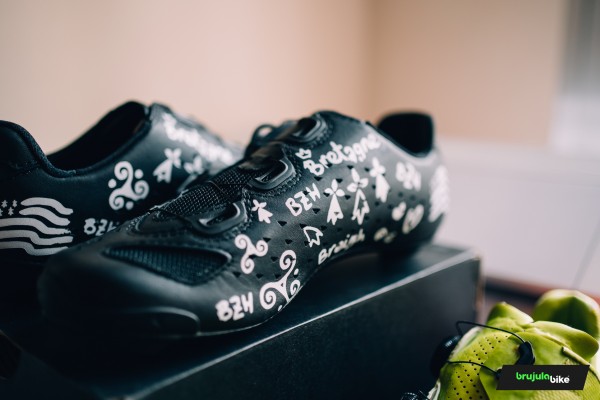 Julio himself received us brush in hand at his studio in Granada, and there he told us that no matter what type of shoe he gets his hands on, he is capable of customising any pair of shoes, whether they are mountain bike, road or any other type of shoe. He even manages to bring back to life some shoes damaged in falls, but he makes it clear that we are not dealing with a normal shoemaker, he just takes it as a step before starting his creative process.
Through his hands have passed shoes of amateurs from all over the world who contact him when they see his work, but also professional cyclists, such as the Polish Tomasz Marczynski of Lotto Soudal who competed in the Vuelta a España 2020 with a model customised by JotaKicks.
 

 

 

Ver esta publicación en Instagram
And speaking of well-known cyclists, Aleix Espargaró's name came up in the conversation when we asked Julio about a project that has been a challenge for him. He confesses that one of the ones that made him sweat the most were the S-Works EXOS 99 that the Moto GP rider entrusted to him. These shoes weigh less than 100 grams, of which only 500 units were made, and the delicate material of the upper meant extra dedication when it came to transforming them into an even more unique piece.
 

 

 

Ver esta publicación en Instagram
As he himself emphasises in the interview, his work does not make the shoe more delicate. On the contrary. The shoes he customises are ready to be used like any other shoe that has just come out of the box, and in fact he gives them extra protection.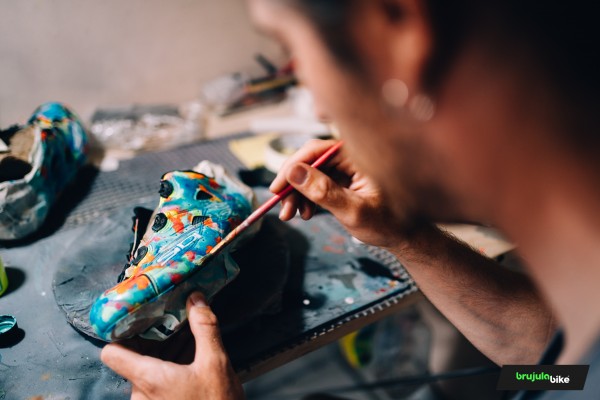 Julio tells us that in the process of choosing the new design of the shoes he works with clients who already tell him how they want the final result to be and others, like the project we were able to record, who leave it to his choice and creative interpretation. 
If after watching the video and seeing some of the shoes that have passed through JotaKicks' hands you feel like customising yours, you can contact him via a direct message on his Instagram profile.
Photographs and video by Víctor Pérez Pelayo.