Loana Lecomte wins overall 2021 XCO World Cup with one event to go
French rider Loana Lecomte decided to make the jump to the Elite category last year when she was only 21 years old, and it seems to have been the right decision as she won the first World Cup in which she made her debut, in Nove Mesto. But this season her consistency has been overwhelming and after winning 5 out of 7 races she has just won the overall classification of the XCO World Cup 2021 in Lenzerheide.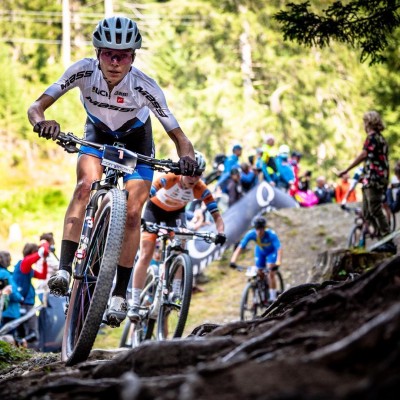 Loana Lecomte wins the overall classification of the 2021 XCO World Cup at 22 years of age
In the 2021 Lenzerheide XCO World Cup several races were run at the same time and one of them was won by Loana Lecomte, one of the most important.
After Pauline Ferrand Prevot announced that she would not be competing in any more World Cup events this year, Loana Lecomte was given a golden opportunity to close out her victory in the overall classification of the 2021 XCO World Cup this week.
Only Sweden's Jenny Rissveds could take that victory from her if she could put in a strong performance in Lenzerheide and SnowShoe, the final race. And it all got complicated for Lecomte when, knowing she would not be in the final World Cup race, Rissveds won Friday's Short Track.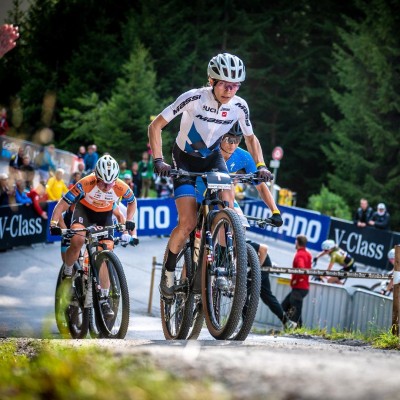 But in the end Rissveds finished fourth and Lecomte fifth in Lenzerheide after the Frenchwoman did the impossible and arrived totally exhausted at the finish line. This left the Swede 485 points behind the Frenchwoman in the overall standings and with only 375 points at stake for Snow Shoe. Even if Rissveds managed to win the final Short Track and XCO race, she would not be able to overtake Loana Lecomte.
Loana Lecomte's start of the season has sealed the overall classification, which rewards the most consistent rider of the year. World champion Evie Richards had a few words for Loana Lecomte after winning in Lenzerheide and said she was a fair overall winner.