New S-Works Tarmac SL7 World Champion edition for Alaphillippe
French rider Julian Alaphillippe performed an impressive exhibition to renew his rainbow jersey at the Flanders World Championships, but while his multicoloured jersey will remain the same for another year, his bike will not. Specialized has just delivered him a new edition of the rainbow S-Works Tarmac SL7.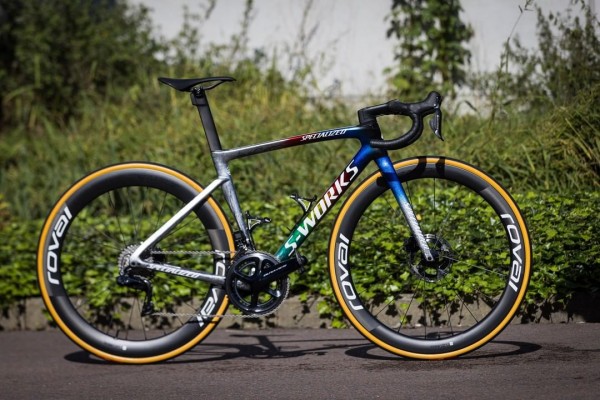 Julian Alaphillippe unveils new S-Works Tarmac SL7 World Champion edition
At Specialized, Tom Briggs is in charge of designing all the models for the brand's World Champions. He recently did it for the bikes of XCC World Champions Sina Frei and Cris Blevins, and now he has done it again for Alaphillipe.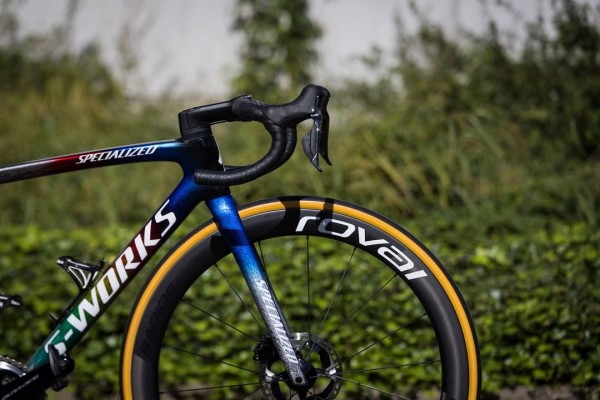 If you thought the new look of the S-Works Tarmac SL7 had no clear meaning beyond the rainbow itself, you were wrong, as Briggs himself explains:
"The World Champion bikes were inspired the swirling storm of competition. That moment when all of the riders effort is being put into the pedals. Their vision starts to blur and their eyes cross. If you look at the World Champ top tube logo, it's offset as though their vision was starting to see double and the world champion rainbow stripes are starting to blur on the down tube and head tube. The silver granite represents the swirling of thoughts, emotions, training, and everything else that goes into that one singular moment of glory as they become the world champion." - Tom Briggs, Specialized Designer of the World Championship Bikes?.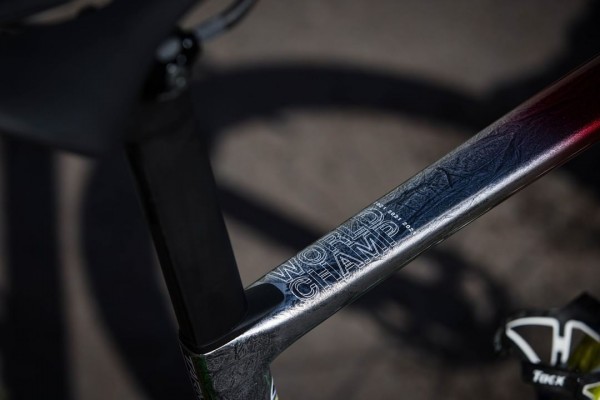 The current version of the Specialized Tarmac SL7 was introduced in 2020 and since then has won both World Championships. The brand claims that this model is as aerodynamically efficient as the previous version of its Aero, the Venge, but the Tarmac keeps its weight at the minimum 6.8 kg dictated by the UCI to compete.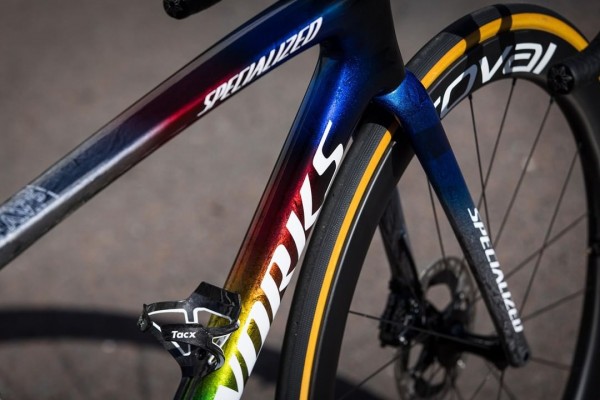 This special edition of the Specialized Tarmac SL7 was premiered yesterday by Alaphillipe at the 2021 Milan-Turin race.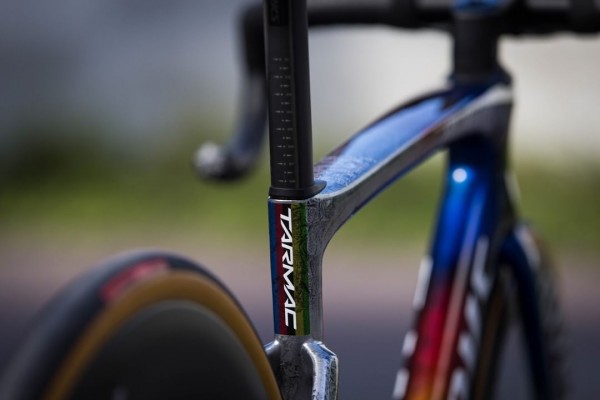 The rest of Alaphillipe's bike is fitted with Roval wheels, he chooses the Alpinist CLX model for mountain rides and the Rapide CLX for flat stages. The saddle is a S-Works Romin Evo, the pedals are Shimano Dura-Ace, the bottle cages are by Tacx and the groupset is the Shimano Dura Ace Di2, although it is not the latest version presented this summer but the previous one.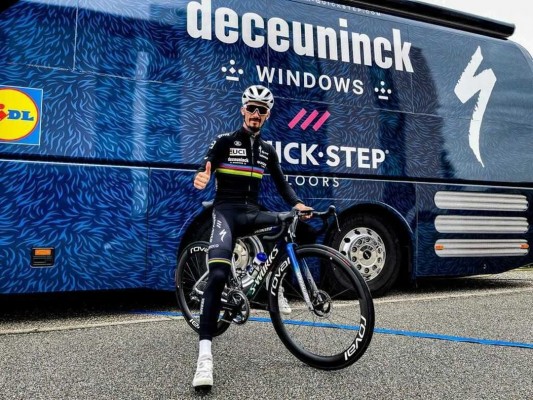 Here you can see the previous edition of this same bike that Alaphillipe has been riding this year, which one do you prefer? We will read you on our social networks!