We test the new Bryton Rider 750 - a killer Garmin/Wahoo?
The Bryton Rider 750 cycling computer was introduced in late 2020 as a model below the brand's top-of-the-line Bryton Rider 860. But a cycling device with colour touchscreen, online route navigation and voice search that's priced at less than €250 is clearly not just looking for a niche in Bryton's own catalogue. This Rider 750 has arrived to compete directly with Garmin and Wahoo models several hundred euros more expensive, such as the Garmin 830, 1030 or the Wahoo Elmnt Roam. We report our experience with it and if it is really a threat to the top of the range of the competition.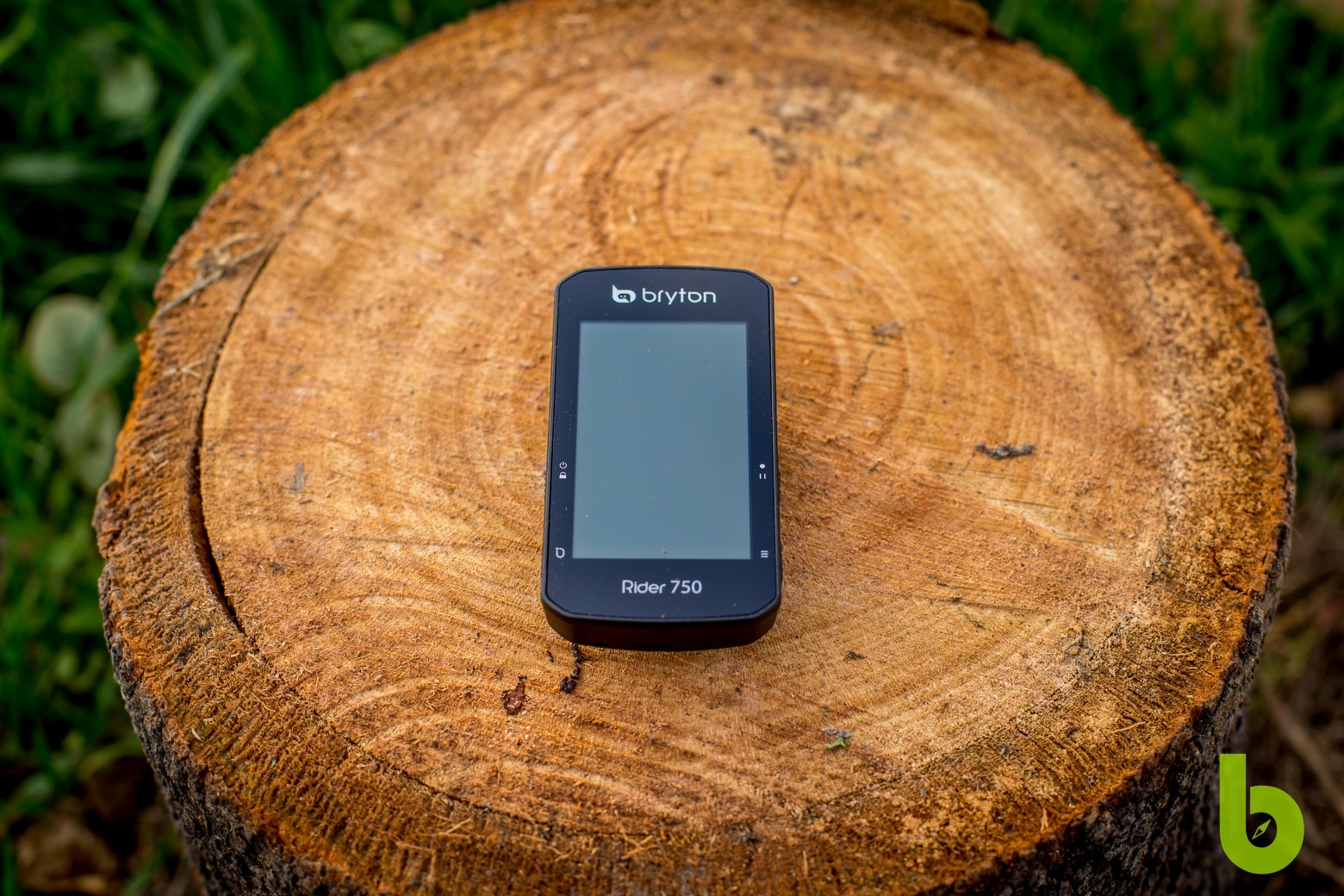 We test the Bryton Rider 750: sophisticated in performance, affordable in price
Based in Taipei, Taiwan, Bryton has a wide range of cycling computers to suit most cyclists. But in a market dominated by Garmin and Wahoo, the Bryton Rider 750 has arrived to become a best-seller.
Key features of the Bryton Rider 750 
The Bryton Rider 750 cycle computer is available in two versions, one (750E) which comes with the device along with two holders for 249.9€ and the other (750T) which also includes the pulse, speed and cadence sensors for 319.95€.
In both cases the bike computer is the same and the main features are a generous 2.8" colour TFT LCD touch screen, support for all current satellite systems (GPS, Galilelo, Glonass, Beidou, QZSS), WiFi, ANT+ and Bluetooth connection for all types of sensors, Shimano Di2, e Tap and Campagnolo EpS electronic gears, and synchronisation with third party applications such as Strava, Training Peaks, Selfifloops, Komoot, etc.). It includes barometric altimeter and its declared (and tested) autonomy exceeds 20 hours.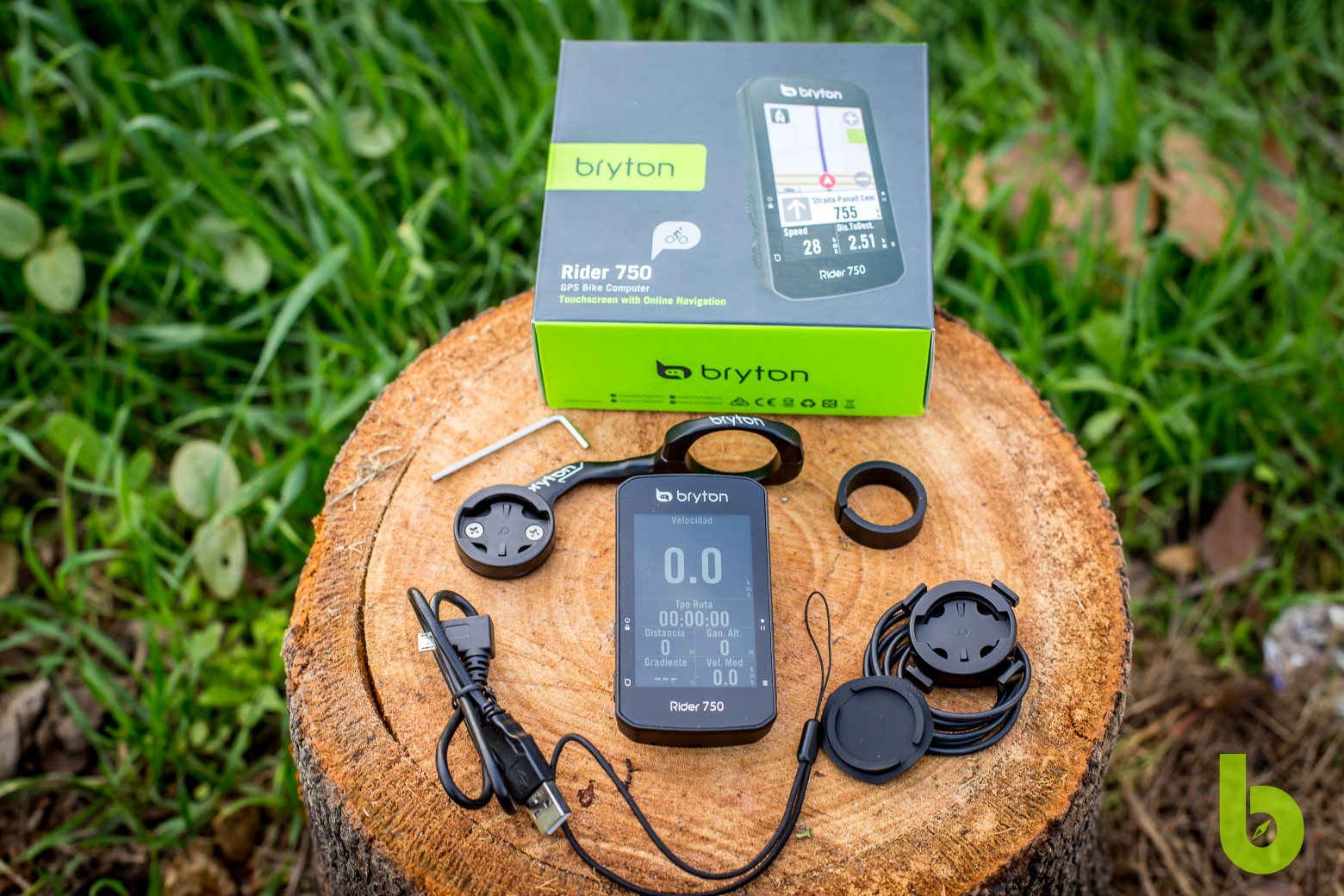 Just with this it seems that there will be little more that a cyclist could demand from a cycling computer, but it also feels a robust device in the hand. It weighs 93g, has IPX7 certification (practically waterproof) and its stylised aesthetic with only two physical buttons integrated on each side is sober and elegant. On the back it hides the micro USB charging port protected by a rubber cover, and although the bracket to attach it to the handlebars looks identical to Garmin's, it's actually Bryton's own.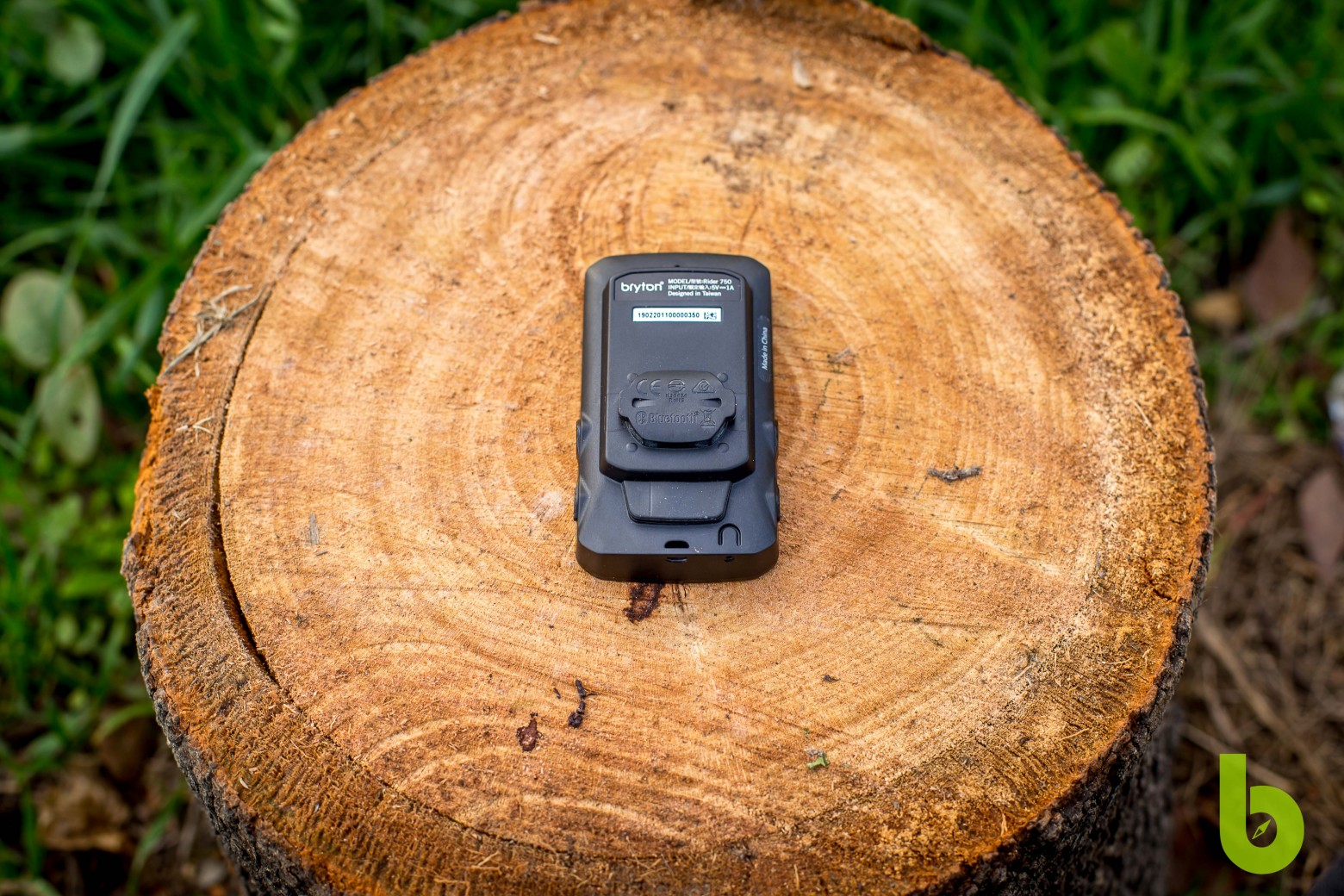 But all this is just data and first impressions, so let's see how it responded after quite a few outings over a little more than a month of use.
Riding with the Bryton Rider 750 on our handlebars
Knowing its features and the incredible price of this Bryton Rider 750 it was time to take a closer look at this GPS and see what it was hiding and where the trick was, if there is one.
It was enough to take the device out of the box, our version was the basic kit without sensors, to notice some considerations about this Rider 750. After turning it on and making the first language settings, etc. it is mandatory to download the Bryton app on our smartphone and update the GPS with the latest firmware version available (be careful because the app does not warn that there are updates available and you will have to look for them manually in the application). This first step already indicated something that we would verify over the days, it is a cycle computer that to get the most out of it will have to be connected to the phone. Something that nowadays happens with any device of this type.
Through the Bryton app you can upload routes and download activities to the Rider 750, configure it and get online navigation, among other applications. As we have already mentioned, it can also be synchronised with other apps such as Strava, where you can download routes or upload activities, but for the moment it is not compatible with Strava Live Segments.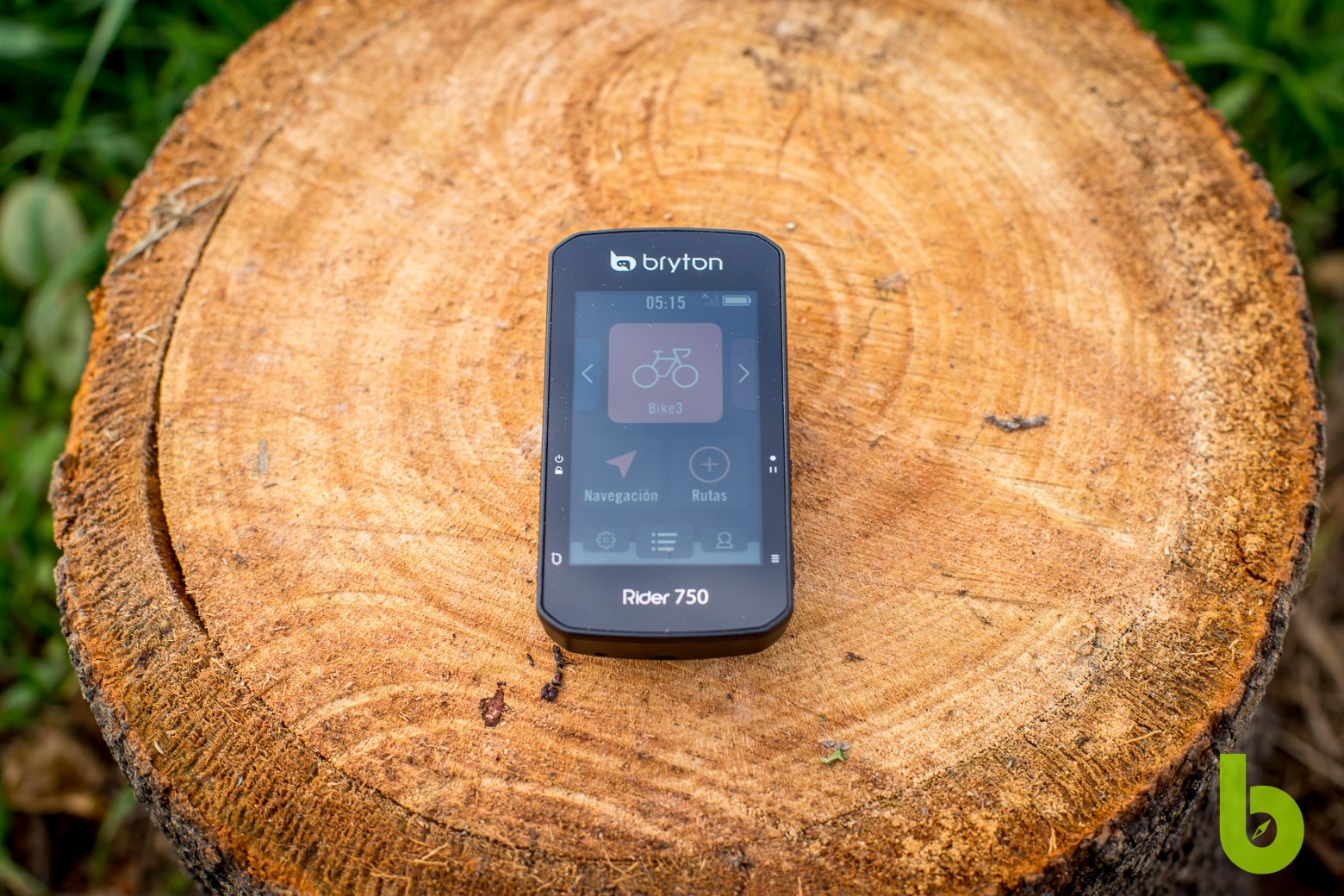 Along with the device, the kit includes a safety lanyard, a rubber handlebar holder and a slimmer aluminium handlebar holder. So once everything was installed and the first configurations were done, it was time to go out and test it. And then came the first controversial point, the usability of the Bryton Rider 750.
Physical interaction with the computer can be done via the physical buttons and/or the touchscreen. The touch response feels a little clumsy when compared to any smartphone, but we know that would be an unfair comparison and the truth is that it works well, although with long gloves we prefer to use the physical buttons to navigate through the different screens. The option to lock the touchscreen operation is a plus point that on rainy days will prevent the device from going haywire.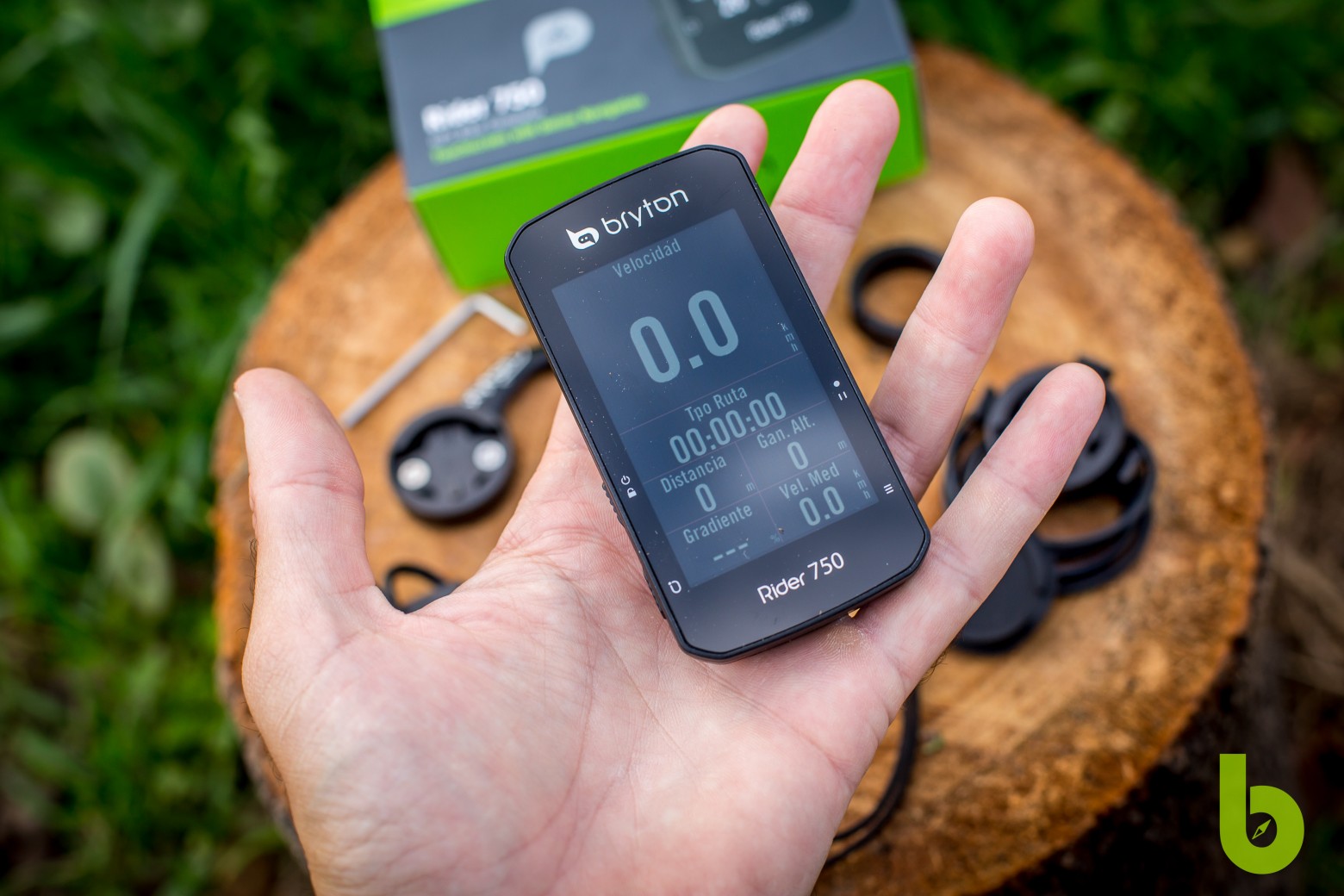 The Rider 750 can host 3 different bike profiles and the connection to the different sensors as well as to the satellite has always been very fast in our tests.
With the physical interaction section out of the way, it's time to talk about the interface itself. A very personal matter that will clearly be conditioned by each rider's background. The system is obviously different to that of Garmin or Wahoo, both of which have advocates and detractors, so for those who come to Bryton after years of handling Garmin devices, for example, this interface may seem unintuitive. But again, if we put prejudices aside and try to be fair, the truth is that after a while operating the Bryton everything becomes much quicker.
Up to 12 different areas can be displayed on each screen and this configuration will again depend on personal taste and capabilities, but we found more than 7 fields too many to process the information at a glance.
For the latter, the Rider 750 includes a graphical format that we found to be exceptional for viewing data such as speed, heart rate or power. All data and display settings can be configured both on the device itself and on the mobile app. And despite the depth that can be reached by navigating the device, we also found the ability to return to the home screen with a single touch to be a great feature.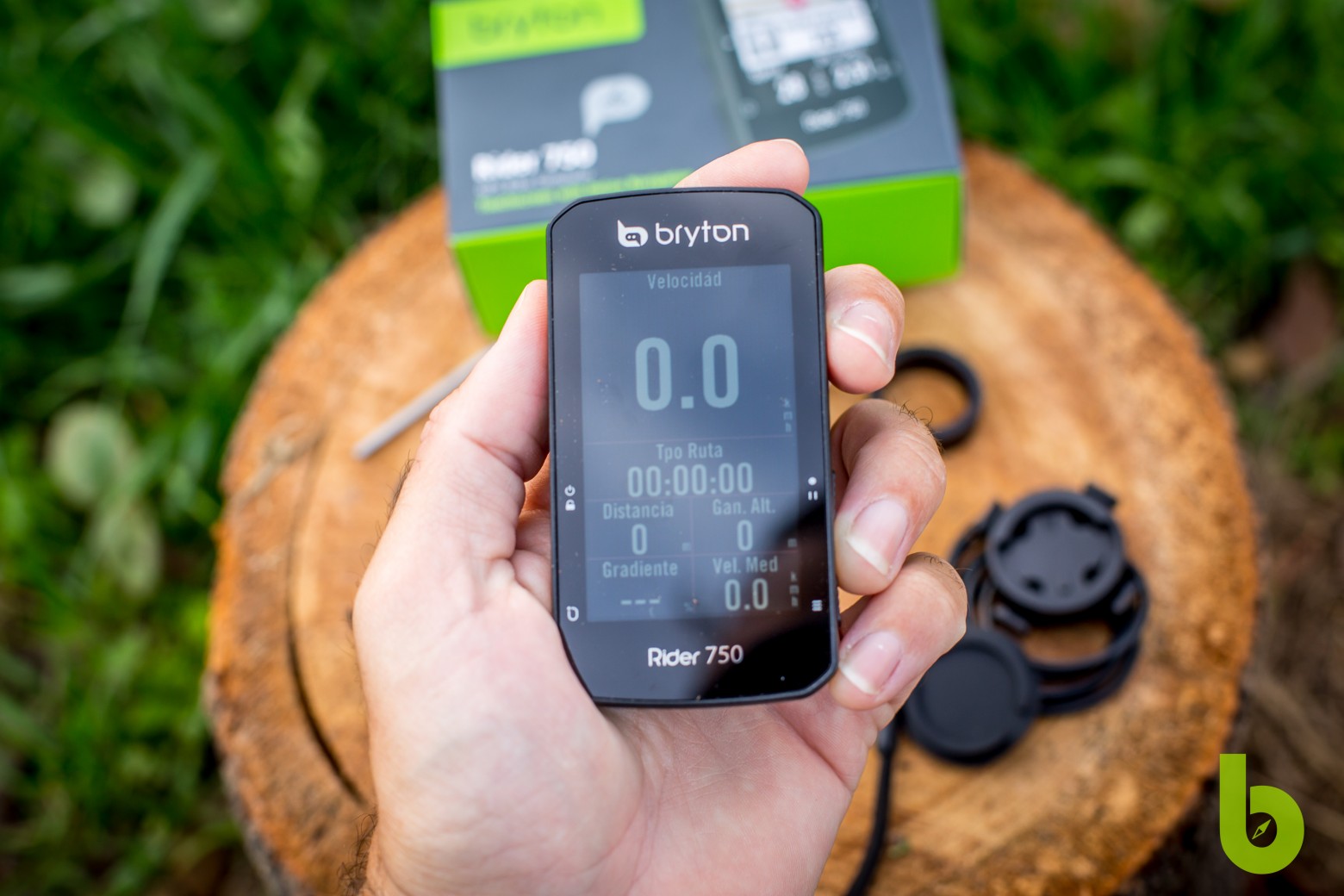 If we talk about navigation we come to a decisive issue for many when it comes to buying one of these Bryton 750 and we can already tell you that it does its job well. The navigation screen has surprised us with its clarity and both the location and the slopes have been accurate during our tests, even in the mountains and through wooded areas. But when it came to zooming in and out we found the device lacked a bit of power to move the maps quickly, nothing you can't get used to except if you're overly impatient.
By the way, the screen looks quite sharp and only in bright light at noon did we miss a bit more contrast.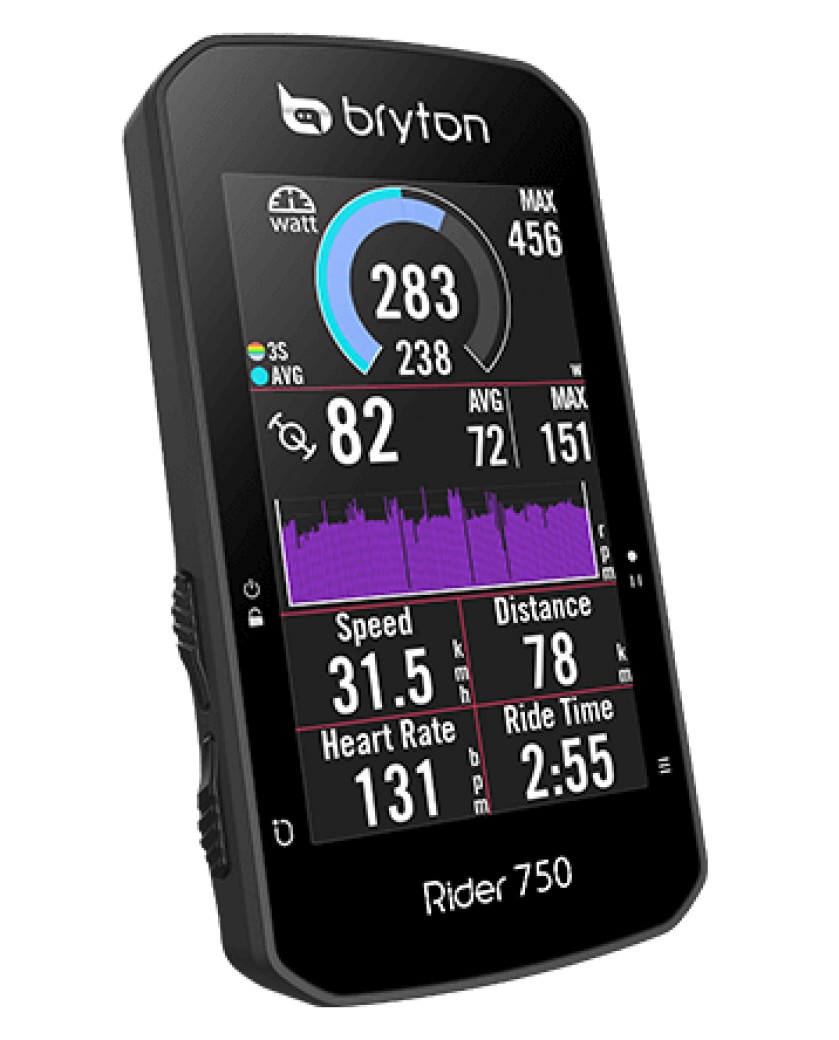 The route navigation works perfectly with previously loaded tracks, as does the turn-by-turn warning system. Although you should bear in mind that if you load the route from Strava it won't have the turn-by-turn navigation function unless you first run it through the Bryton app. The OSM maps included are updated regularly depending on the area, but we found them to be very correct. This is because we also received criticism from Garmin users who had never tried other types of maps before.
When the route is not loaded and we use online navigation to get to a destination, the device works perfectly as long as it has a bluetooth connection to the smartphone and the smartphone has a stable data connection. The same requirements apply to voice search.
Because if you were wondering, voice search does indeed work correctly on the Rider 750. In our tests we used voice search to tell the computer that we wanted to get to locations such as petrol stations, bakeries, pharmacies or a nearby town, and after a few seconds it always returned a correct route with subsequent navigation to it. We have to say that in our case we don't see voice search as a necessity in this type of device and we tested it specifically to see how it worked.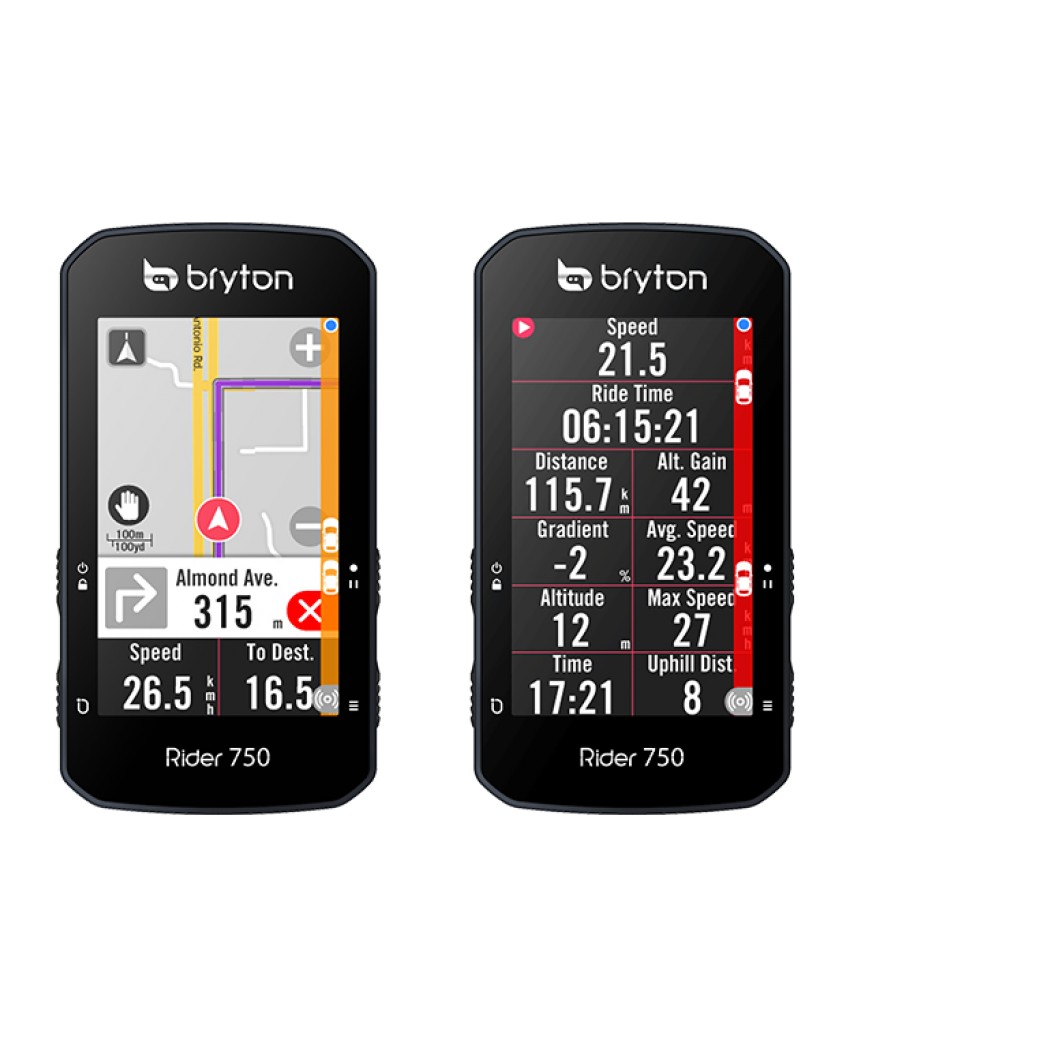 Although we haven't mentioned it yet, the 750 displays all kinds of notifications you receive on your phone, including Whatsapp notifications, and is compatible with Garmin's Varia system and smart turbo trainers. On the smart turbo trainer you can also activate the virtual routes function.
Regarding the battery life, we have been able to verify in several rides that it has no problem in reaching 20 hours with several sensors connected and even navigating with loaded routes. On the other hand, you should bear in mind that if you use online navigation, the battery will be consumed much sooner as you will have to be permanently connected to the phone.
Final conclusions on the Bryton Rider 750
After more than a month of use with the Bryton Rider 750 we can affirm that this is a unique cycling computer in the market, there is nothing so complete for that price. Again we remind you that for under €250 it offers a large touch screen, online navigation, synchronisation with the main external apps and compatibility with electronic drivetrain systems, smart turbo trainers and all kinds of sensors.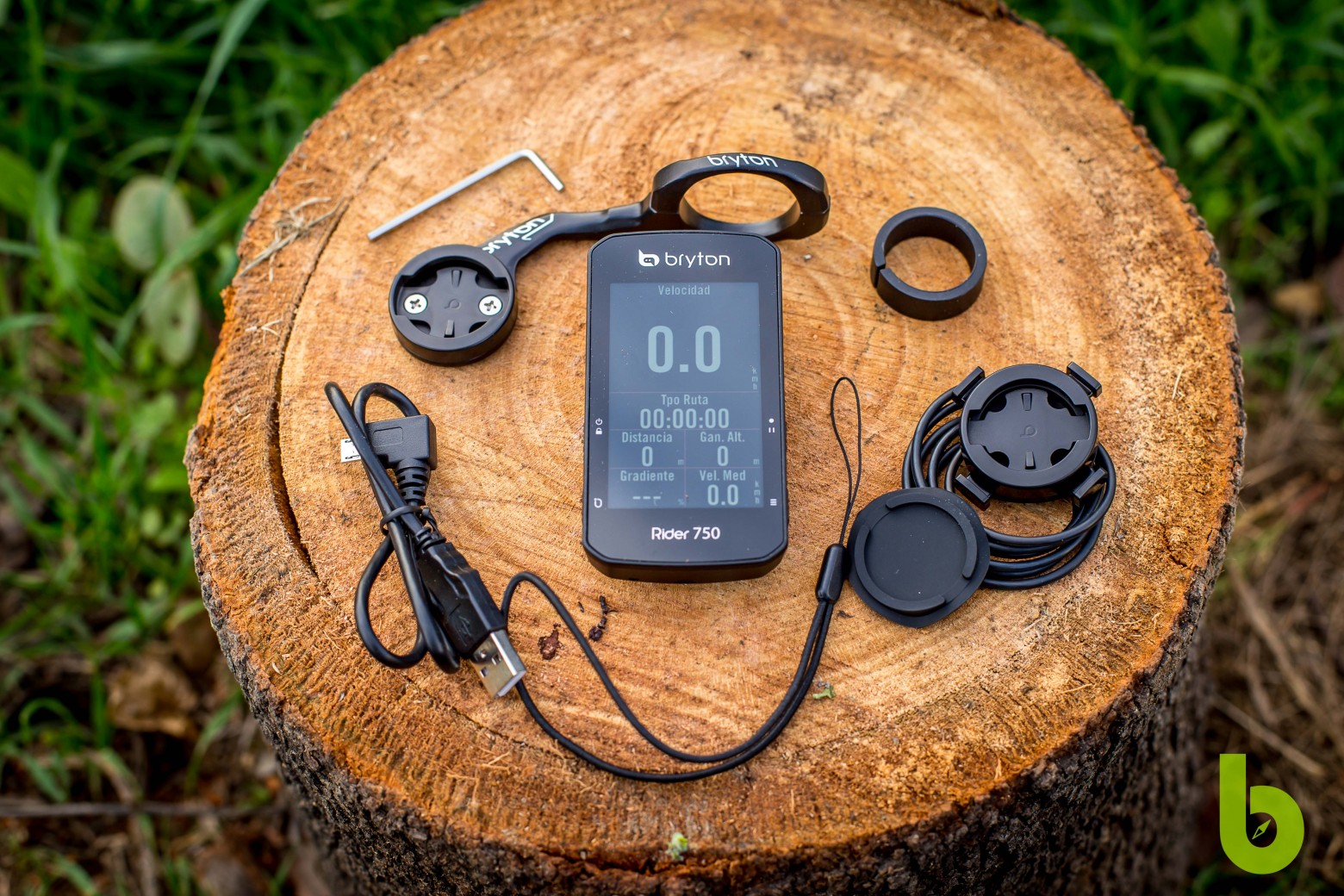 In our test, the only two objective criticisms we could make were the lack of fluidity in some operations such as the zoom on the map or the tactile response. Even so, we don't know if they could be resolved in a future update, as the computer gave us some errors at the beginning that were solved simply by updating the firmware the first time. In our opinion, the pace of updates and improvements to both the Bryton app, some user reviews focus on it, and the device itself will accelerate as more cyclists get it. Nothing that can't be fixed with a minimum of patience and a reminder that this device is half the price of the Garmin 1030 or several hundred euros less than the Wahoo Elmnt Roam or Garmin 830.
It is a cycling computer that is set to become a best-seller and in 2021 we could see how far it is capable of going. 
Bryton Rider 750