Testing the Scott Addict eRIDE Premium, an electric racing bike
Since the emergence of electric-assisted bikes, we have experienced a few years of evolution and new developments at a dizzying pace. The eBikes have been finding a place in various disciplines, mainly in MTB, but with this evolution are appearing increasingly smaller and lighter motors and batteries very consistent with the road e-bikes. The Scott Addict eRIDE Premium is one of these new advanced electric road bikes and we have been able to test it.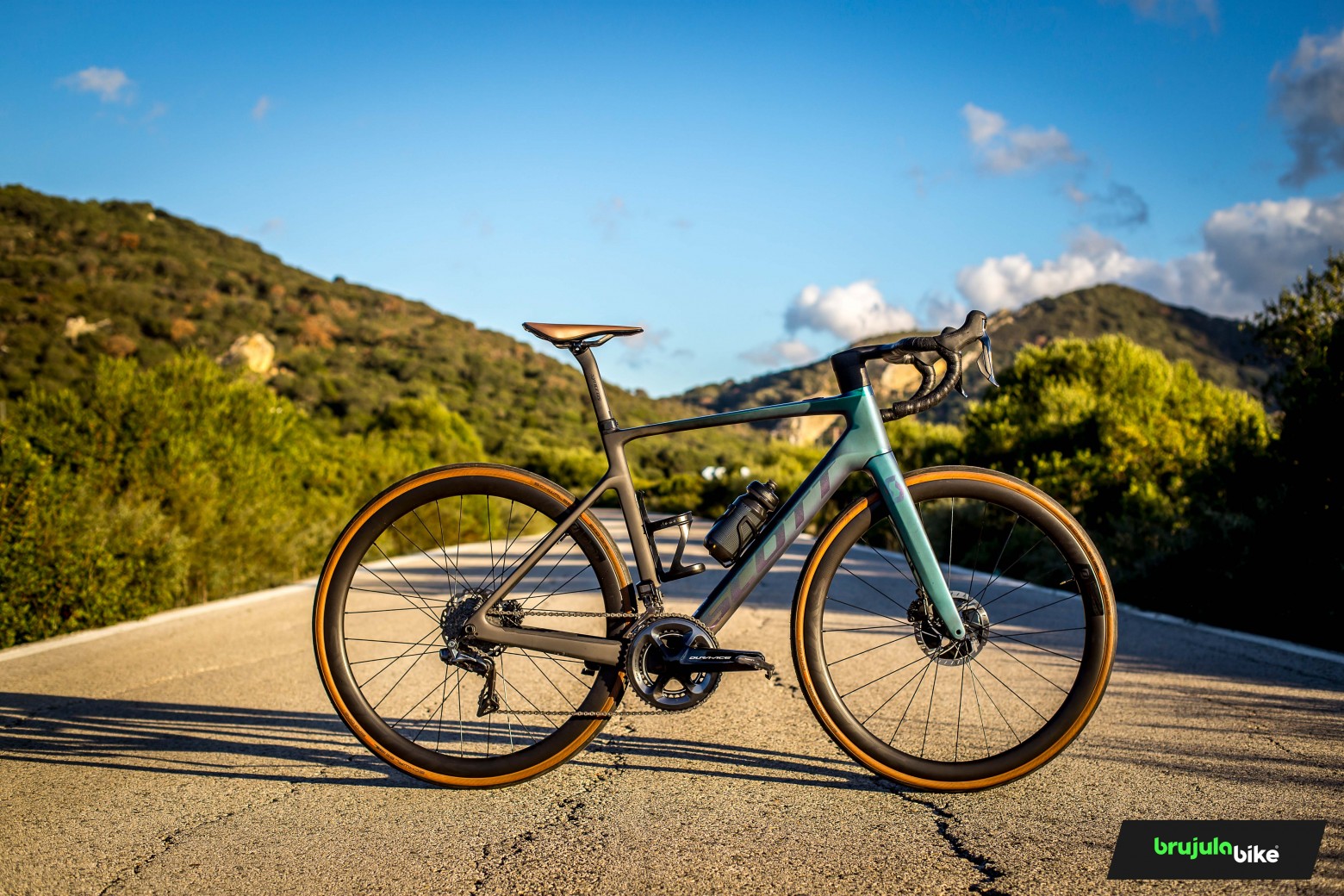 Scott Addict eRIDE Premium, ready to break down barriers
The concept with which Scott intends to enter the road E-bike market with force consists of a really light bike with a motor and battery integration that, unless you have a clinical eye, you will have to look at it more than once until you notice that this bike is not like the others. In fact, it has the aesthetics and much of the set-up of its Addict RC Pro sibling and at first glance it's hard to differentiate between the two.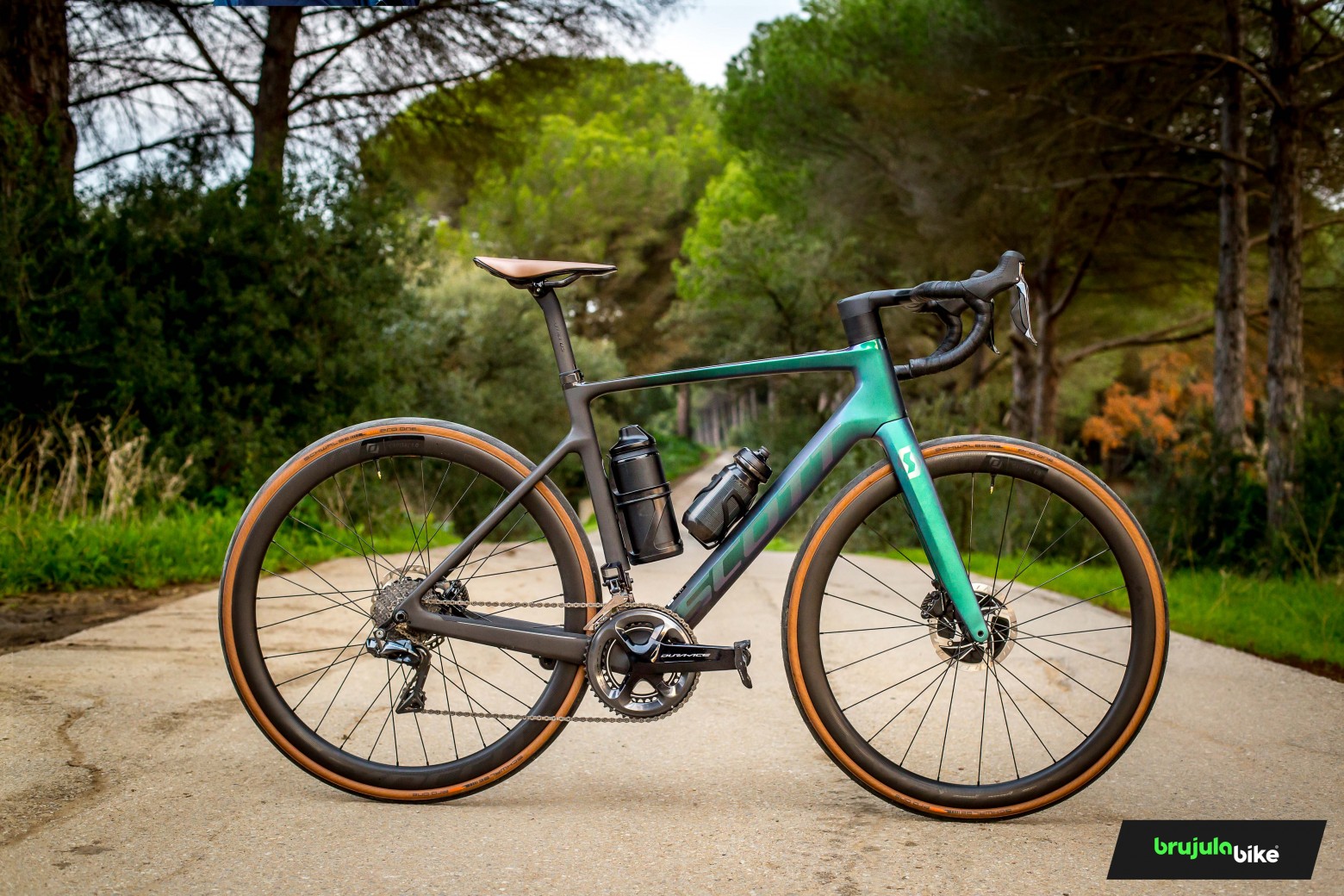 It features a motor integrated into the rear hub, a Spanish-designed Mahle ebikemotion X35 motor that delivers 250 watts of power and a maximum torque of 40 Nm. That's about half the power of most E-MTBs. As we will see later on, this choice is the right one, as it is much lighter and the tremendous power of these heavier motors is not at all necessary in this bike concept.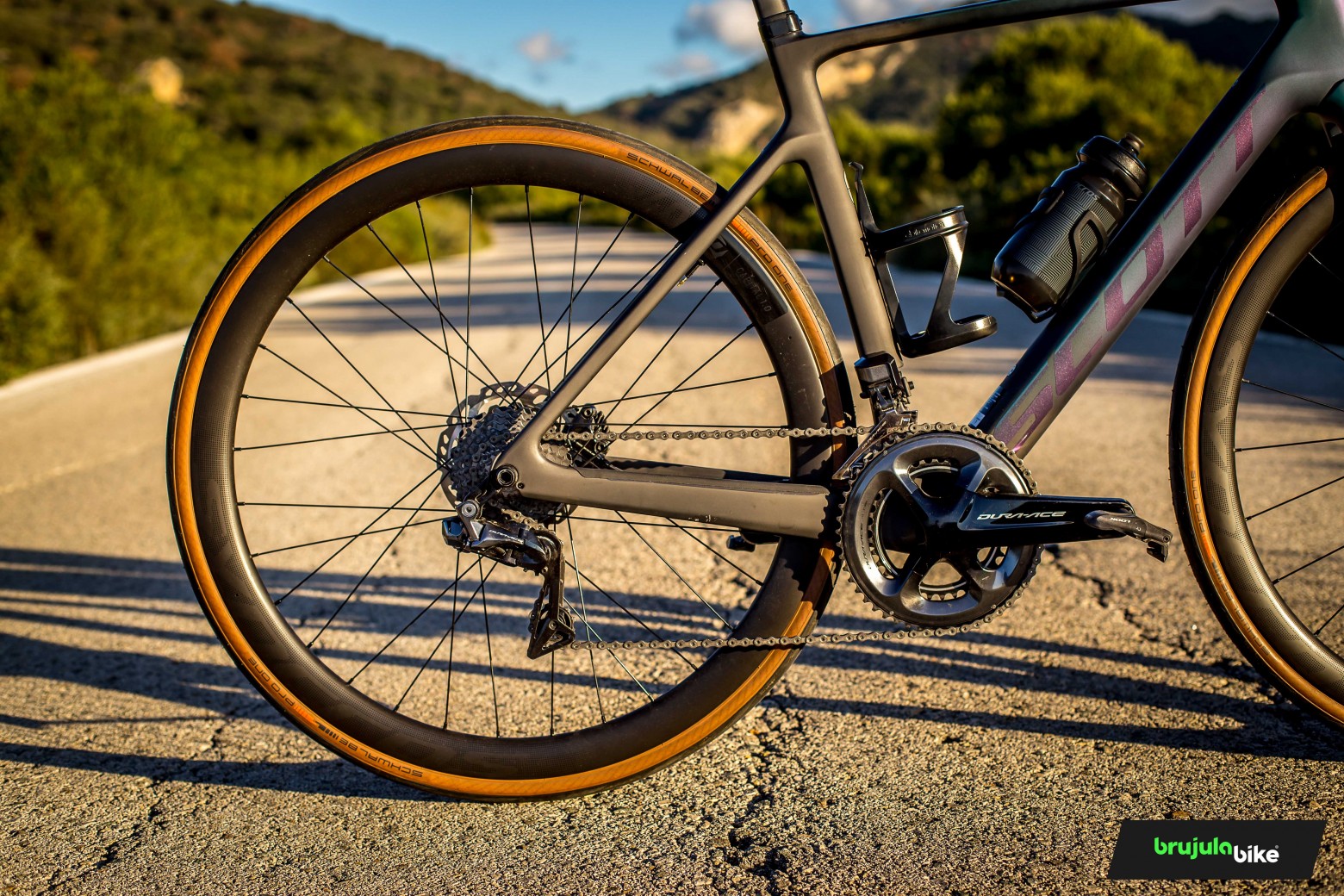 In any case, if we want to face long routes, we have an extra battery that we can mount in a bracket located where the second bottle cage would go.
Underneath this second bottle cage, near the bottom bracket, is the charging port.
The assistance control is located on the front of the top tube. It is the iWok ONE controller, which allows us to change the level of assistance with a single button.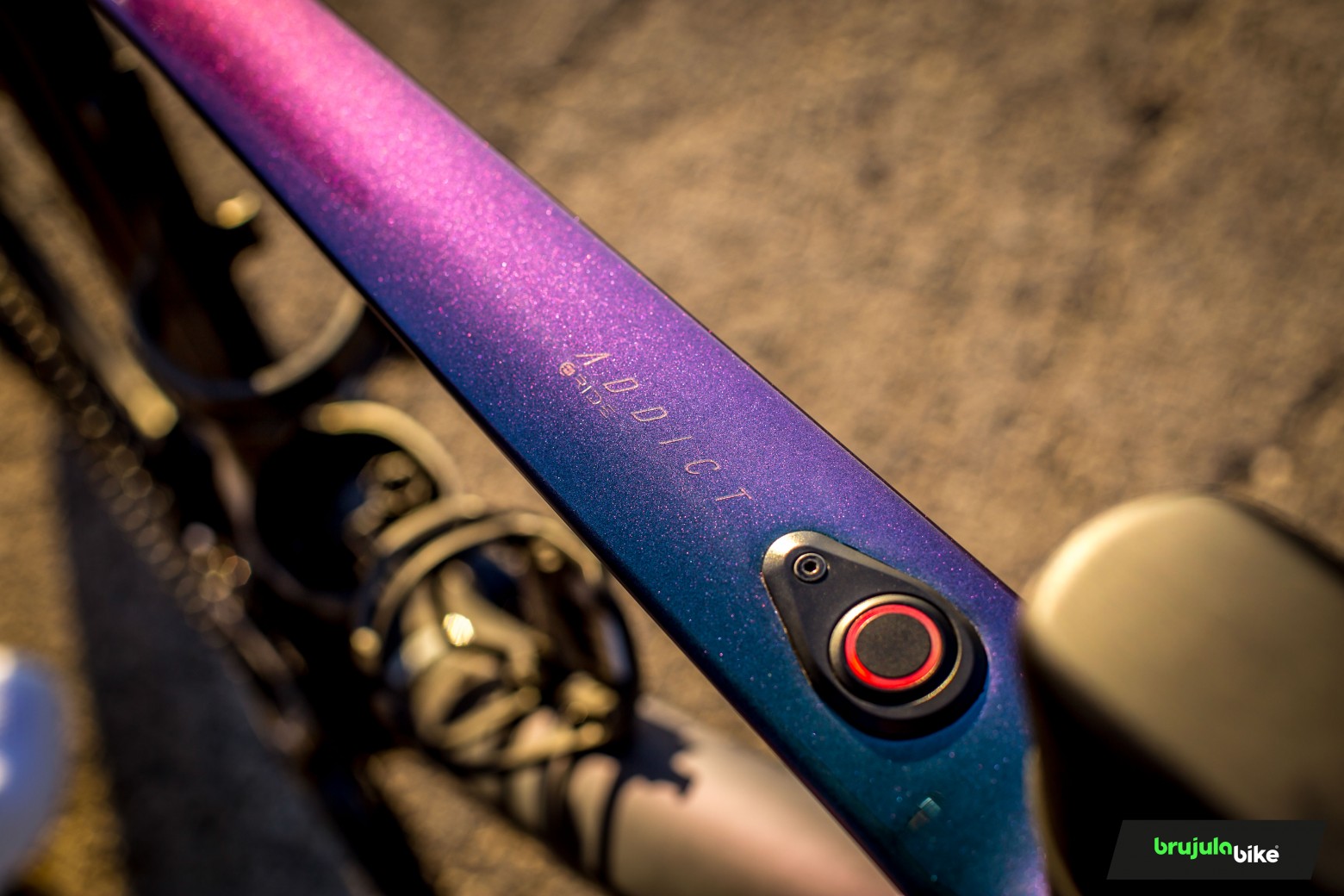 Each press of the button switches from one mode to another, and the outline of the button lights up in different colours depending on the assistance selected. There are four colours corresponding to four modes, one of which is assistance off (it is not necessary to turn the system off if you want to ride for a moment with no assistance).
After each press, as we have said, the light indicates the level of assistance, but a moment later the light changes to indicate the battery level. Also with four colours depending on the level. In addition, when we go below 15% it starts to blink and below 10% the blinking is faster. So with a simple light we have enough information about the remaining battery.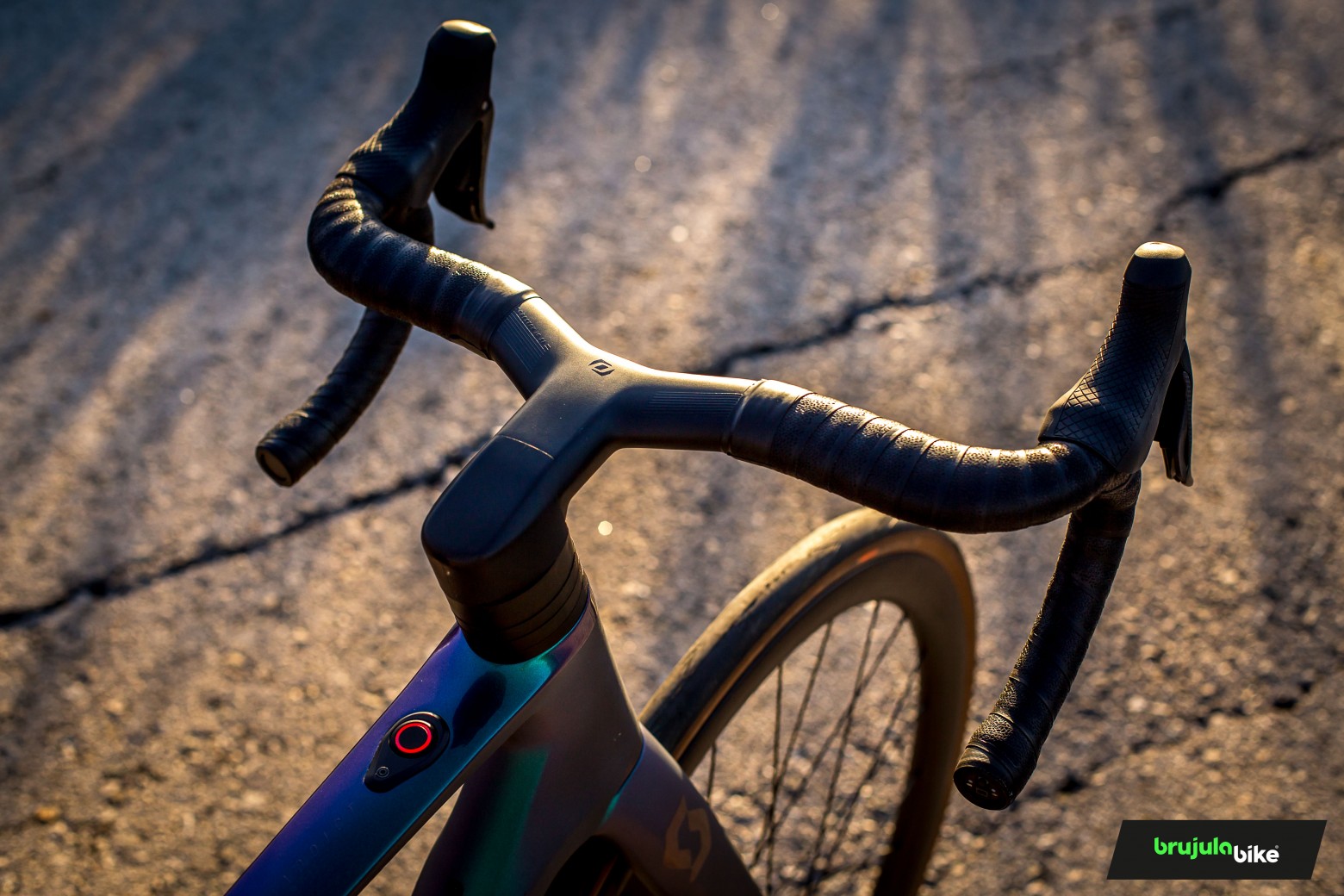 In any case, we have the option of using the Ebikemotion app where we can see the exact battery percentage we have. There we can also customise the assistance levels. And one option that we found interesting is self-assistance, which we can use if we link our heart rate monitor to the app, and in this way we can obtain assistance that varies automatically depending on our heart rate.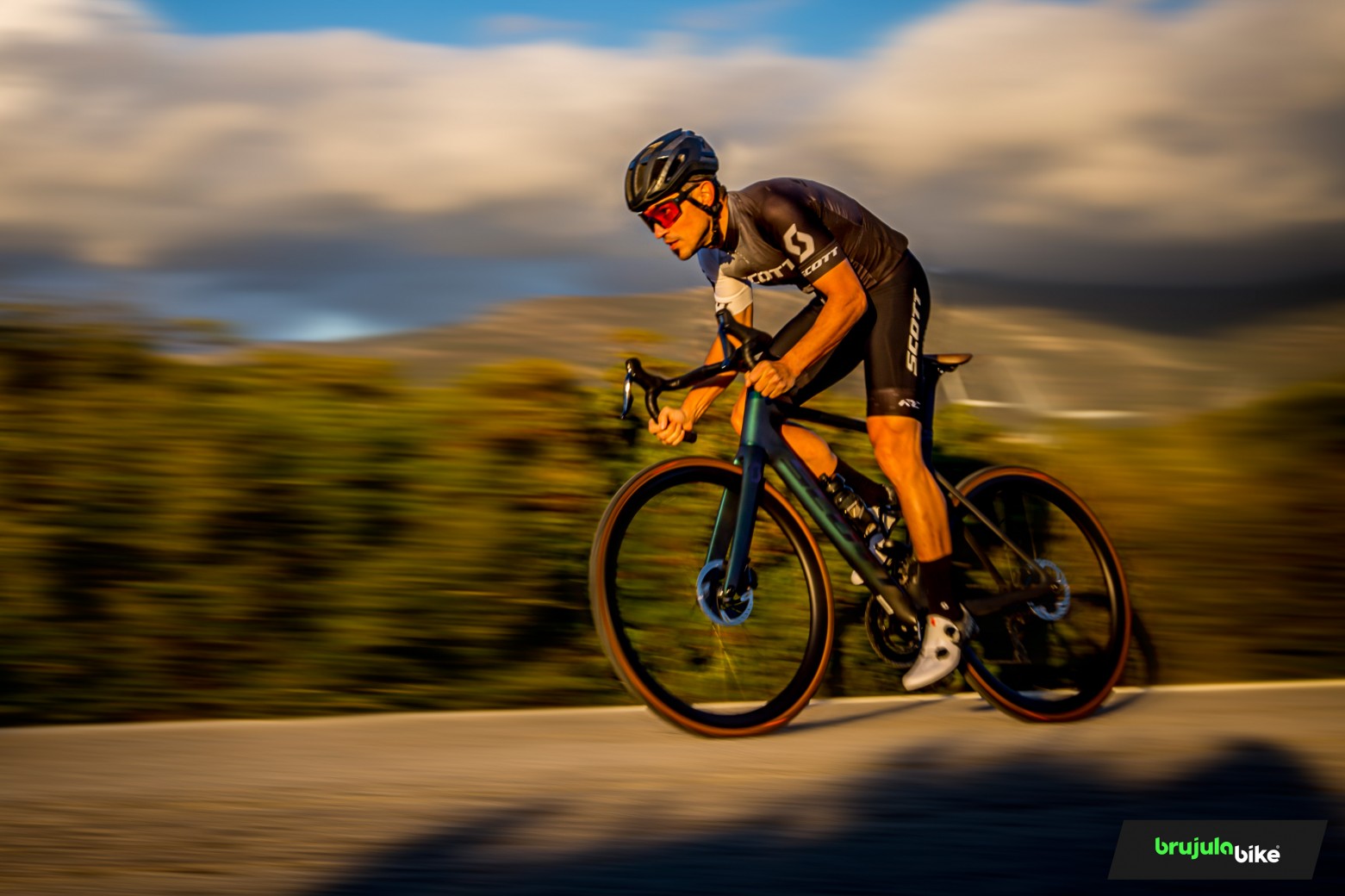 All this set of motor, battery, charging port, control and wiring weighs a mere 3.5 kg, which makes it possible to design a bike as light as the one we have in our hands.
HMX fibres and luxury assembly for the Scott Addict eRIDE Premium
Scott has made a strong commitment to ensure that its top E-bike has the best performance.
The frame and fork are built with Scott's exclusive HMX fibres, reserved for top-of-the-range models, in order to achieve the best compromise between lightness and stiffness. It has been designed with completely internal wiring, with an outstanding aesthetic result.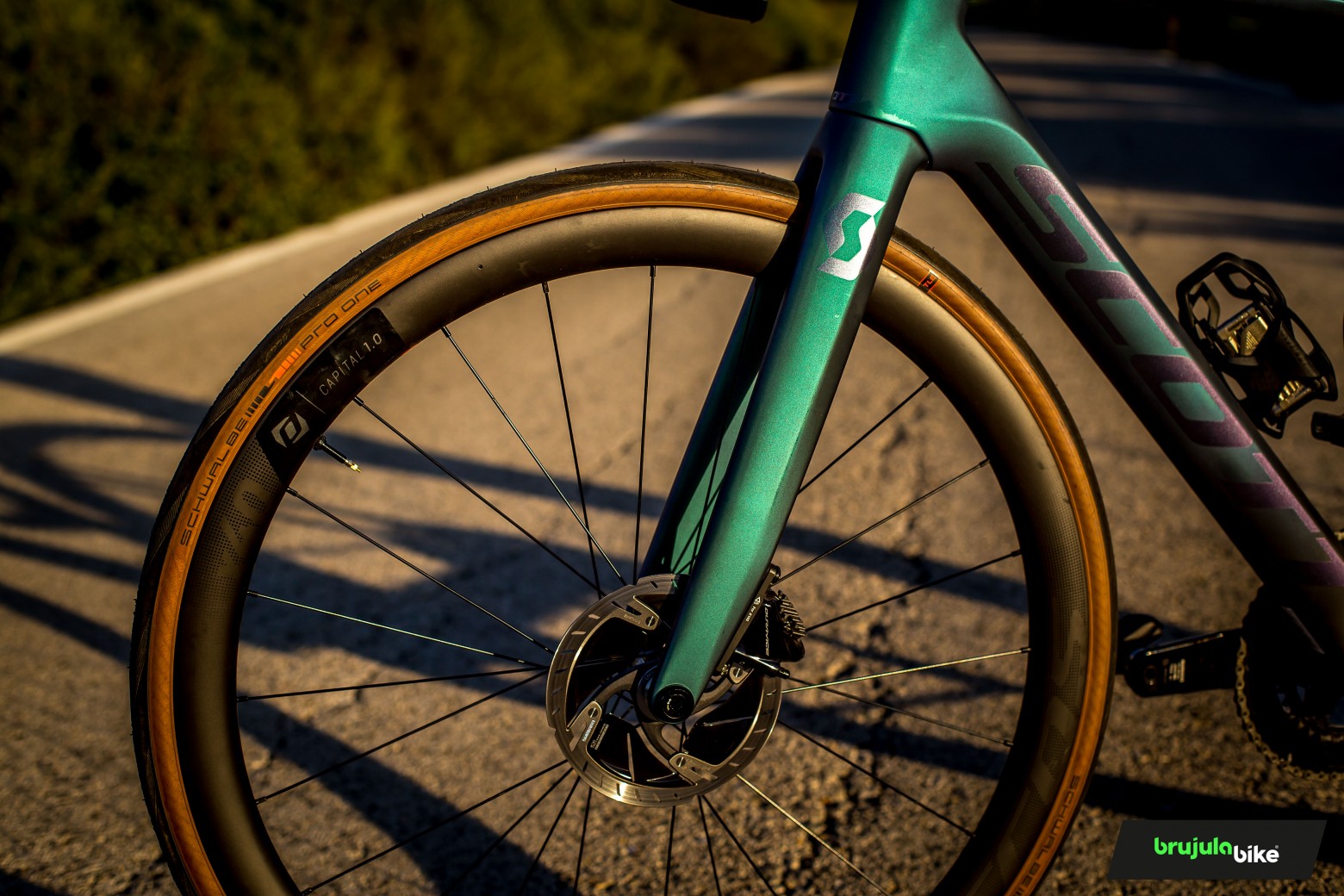 The Syncros Creston IC SL stem and handlebar assembly stands out for its attractive shape, which makes it very comfortable and allows for hidden wiring up to the steering.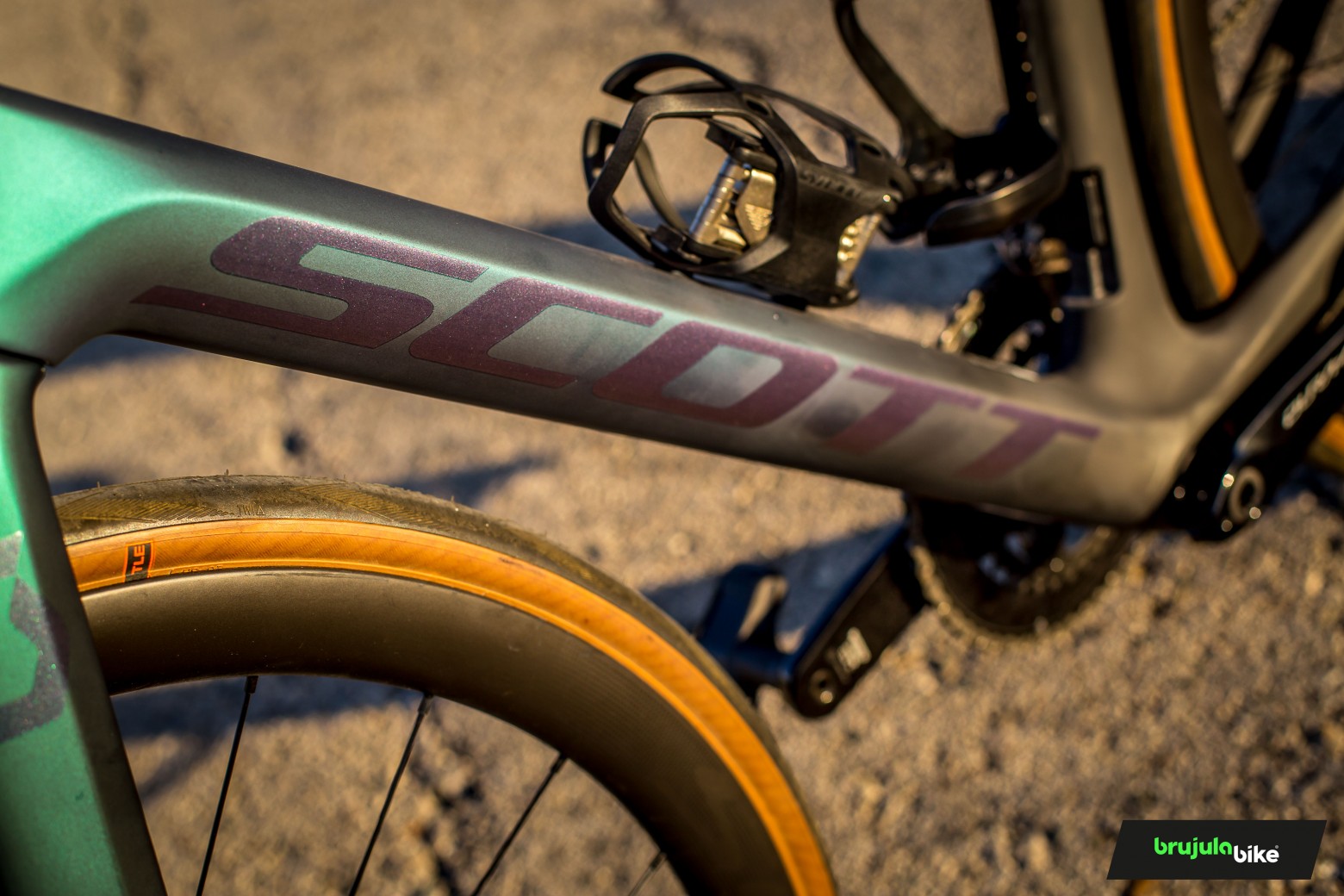 It is equipped with Syncros Capital 1.0 40e Disc carbon rims, which along with the 30mm wide Schwalbe PRO ONE Microskin TL-Easy tyres, allow tubeless mounting and gain a lot in comfort and protection against flat tyres, something of great importance due to the fact that the removal of the rear wheel is somewhat more complex than on a standard bike.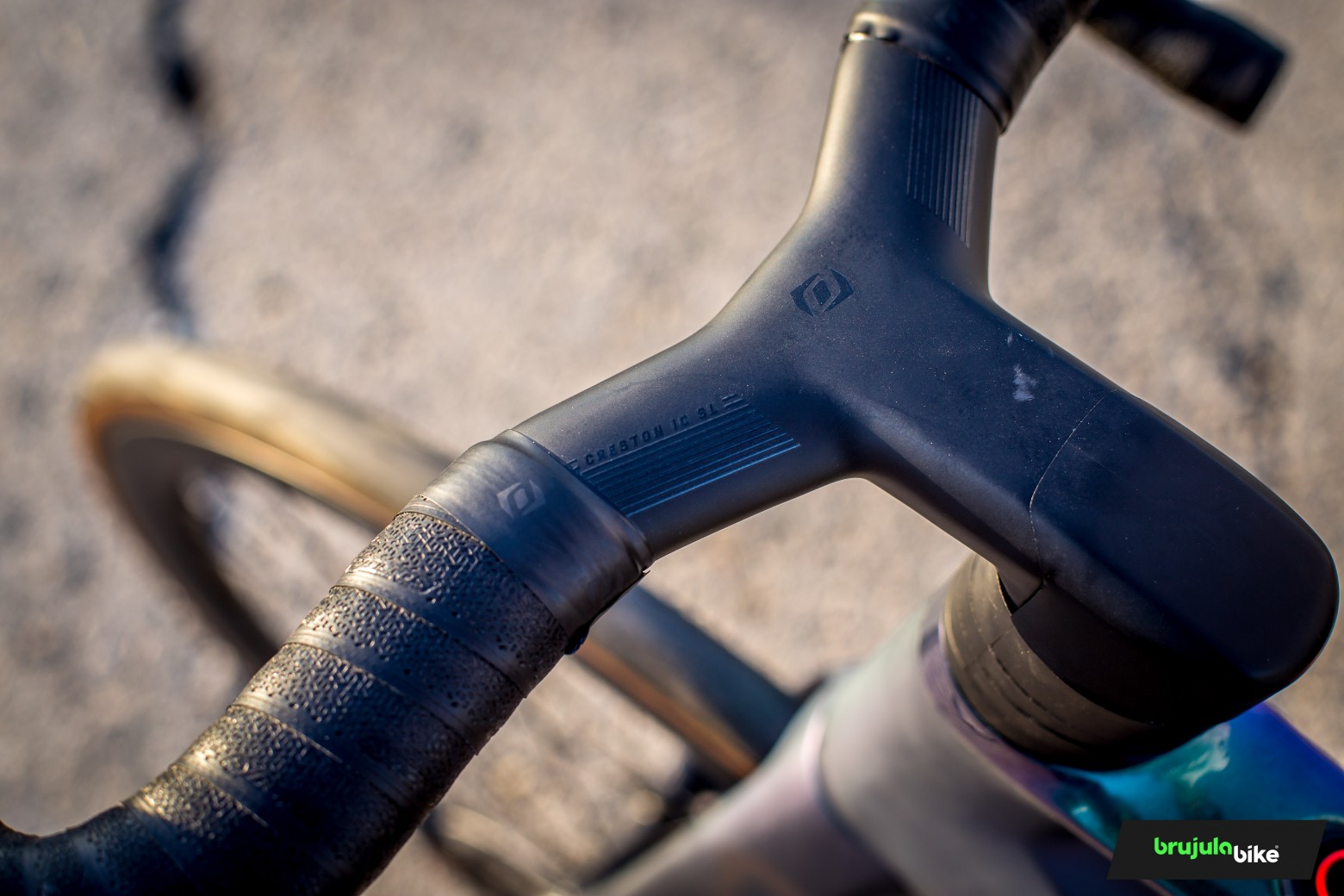 And to complete the set we have nothing less than the Shimano Dura-Ace Di2 groupset.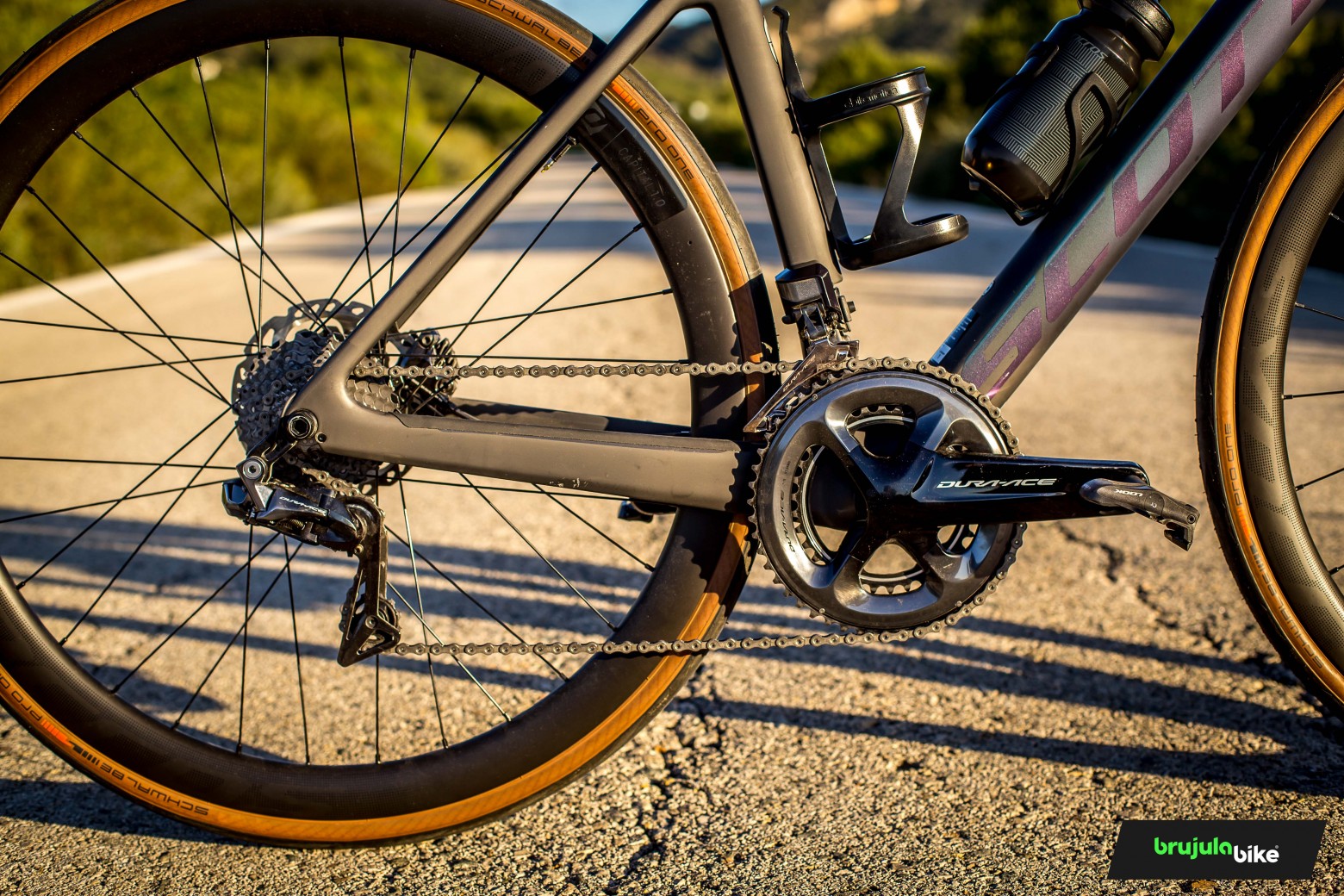 Our test bike in size 54 weighed an impressive 10.97 kg including the bottle cage with its Syncros multi-tool, and if we added the extra battery with its holder we would have to add 1.66 kg more. This figure seems very reasonable considering it's a power-assisted bike.
Riding the Scott Addict eRIDE Premium
When we got on this bike for the first time, one thing became clear to us. Anyone who wants a bike that doesn't suffer and can ride any kind of route without sweating is on the wrong bike.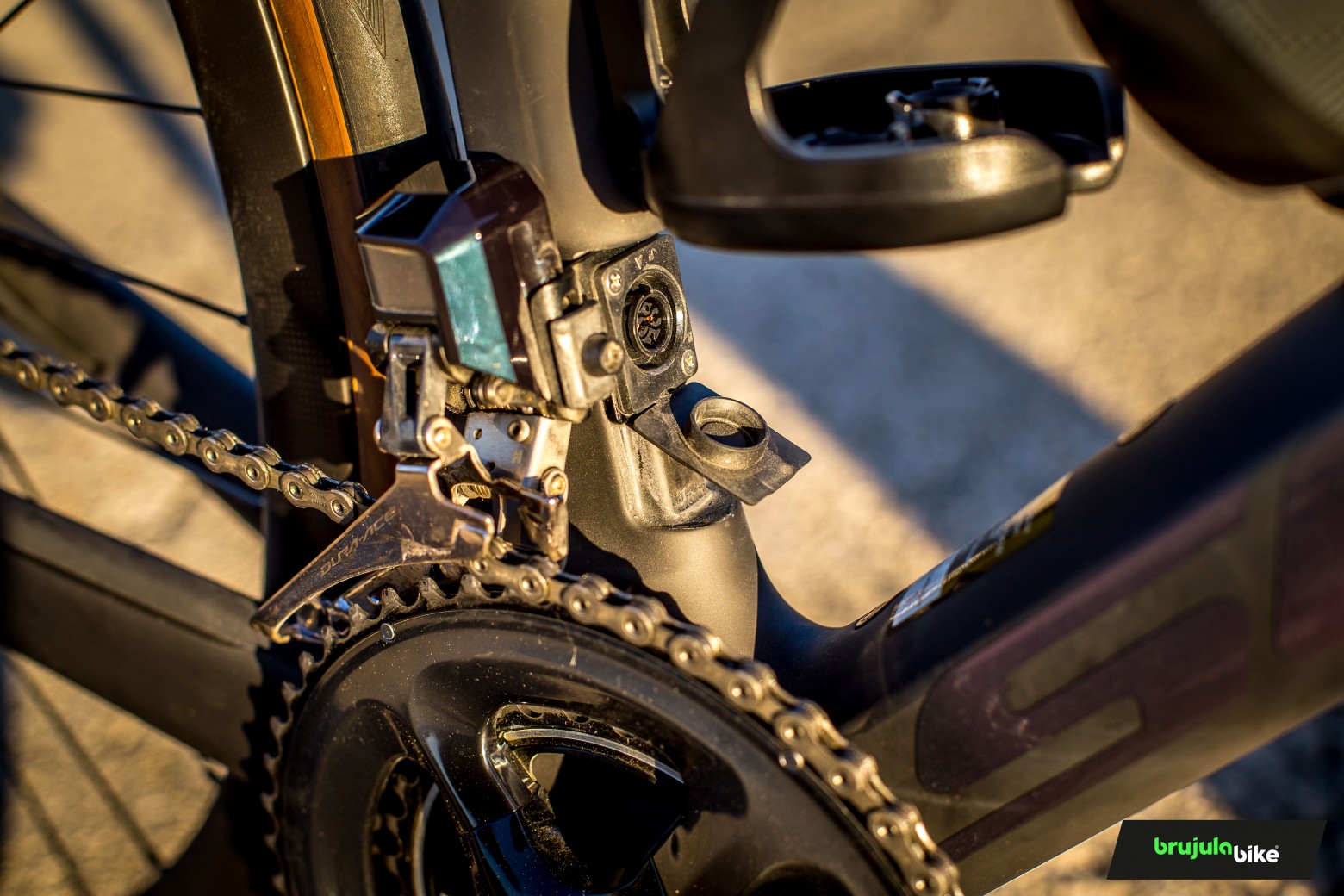 The motor assistance is limited, it is not like the E-MTBs that are common nowadays where you feel a great thrust and at the maximum level it seems that you are riding a motorbike. Nothing like that.
In the first level of assistance, the support is very subtle, allowing us to feel the extra weight of the system when accelerating or going uphill.
The intermediate level is already more palpable, allowing you to ride with a certain "joy" even if the terrain is uphill.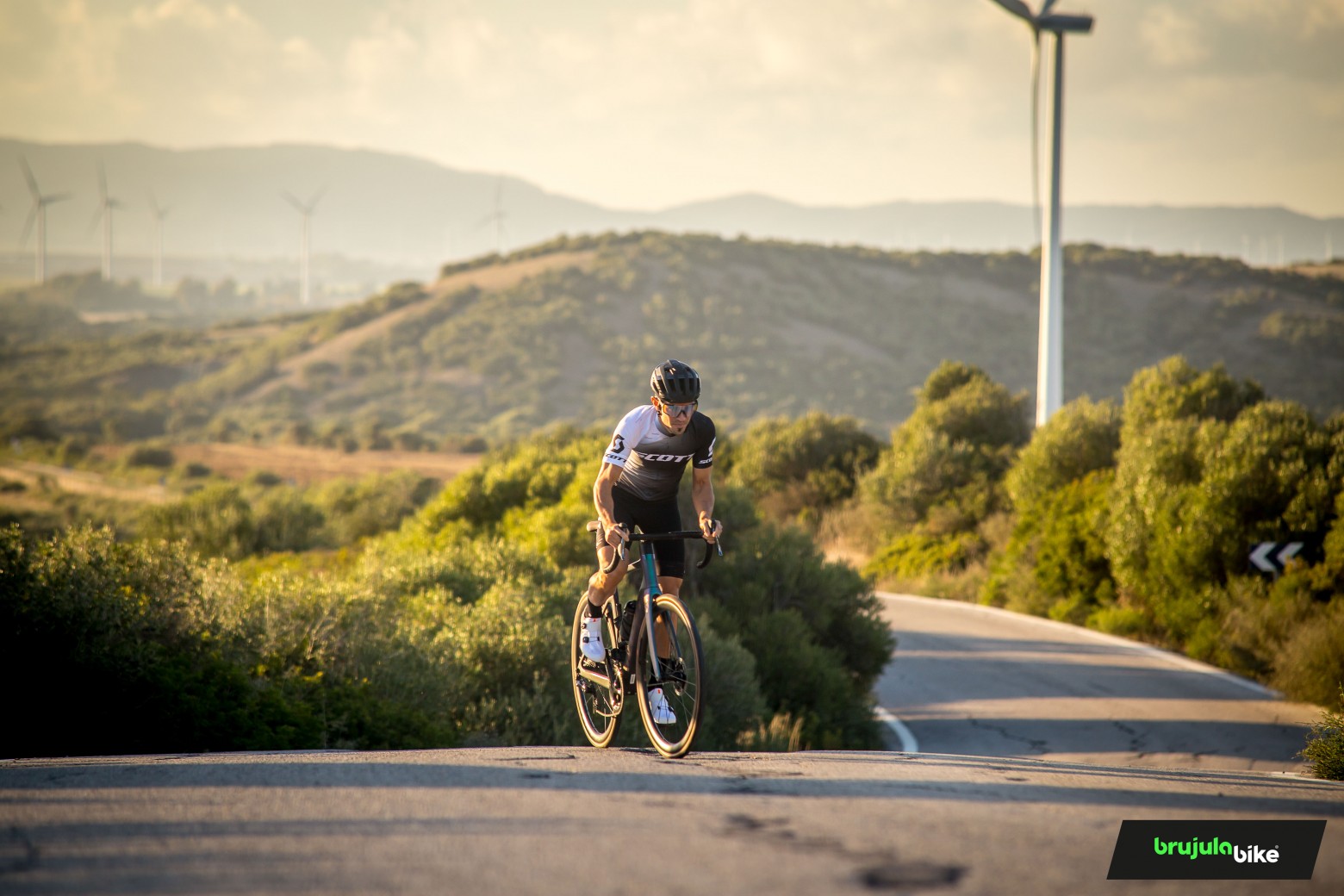 And at the maximum level we have an assistance that helps us a lot to overcome those slopes that normally "choke" us, but nothing to climb any slope at 25 km/h as if we were professionals.
The motor is really silent. Only at maximum assistance level and on completely smooth asphalt you can hear the slightest humming noise.
Something we were worried about before testing the bike was how it would feel when the system deactivates at 25 km/h, and it's not noticeable at all. The assistance is smoothly decreasing as you get closer to speed and you don't really notice the exact moment when you stop having it.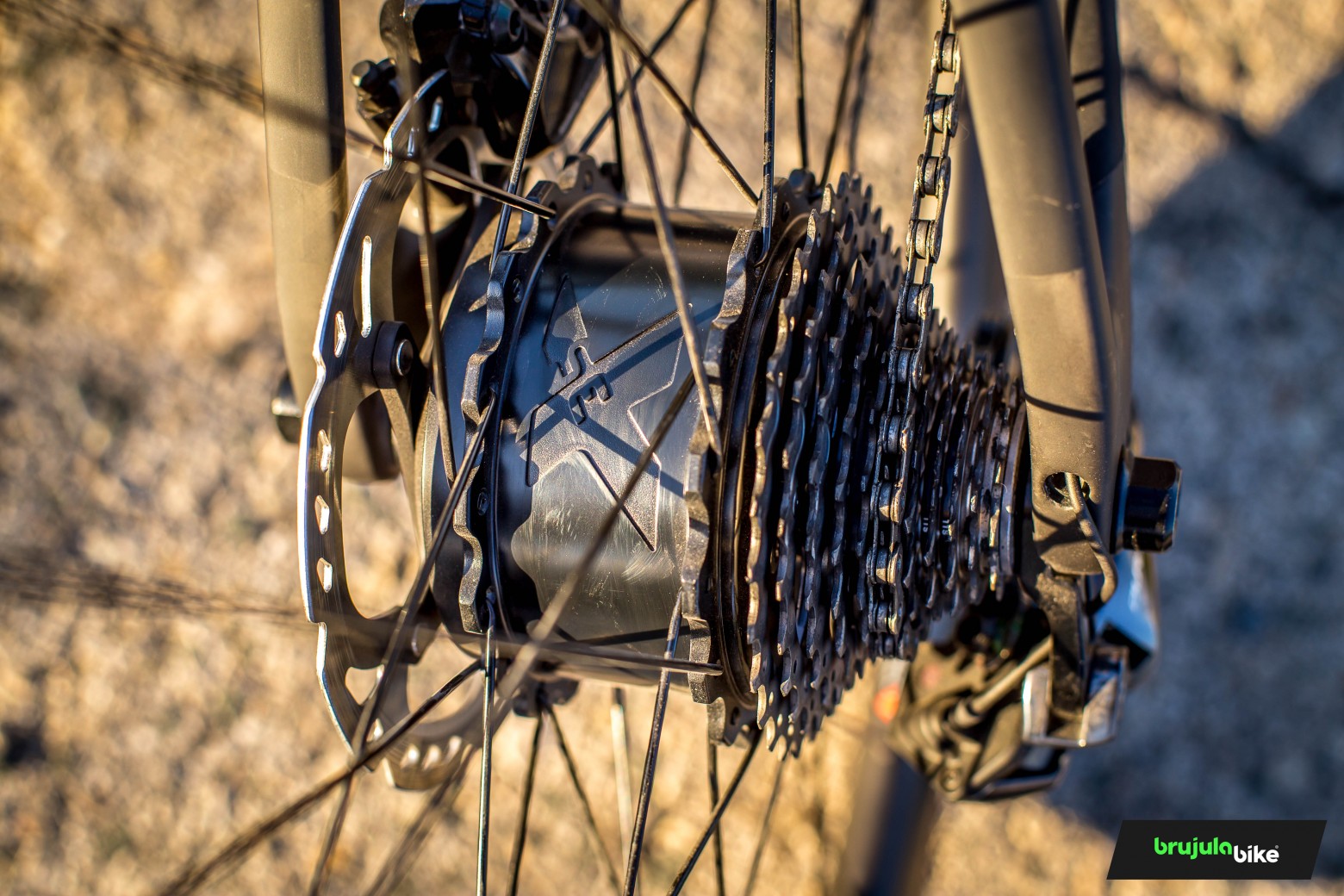 On the other hand, riding with the engine off, either by going over 25 km/h or by turning it off, has no ballast or friction whatsoever. The difference compared to riding a normal road bike is only those 3 or 4 extra kilos.
As mentioned above, the assistance can be controlled by the iWok ONE control, located on the top tube. This leaves the handlebars clear of buttons, like a traditional bike, but it has the disadvantage of having to let go of one hand whenever we want to change the mode. Also, having only one button means that you can only change modes upwards, so to lower the assistance you have to press several times until you reach the desired mode.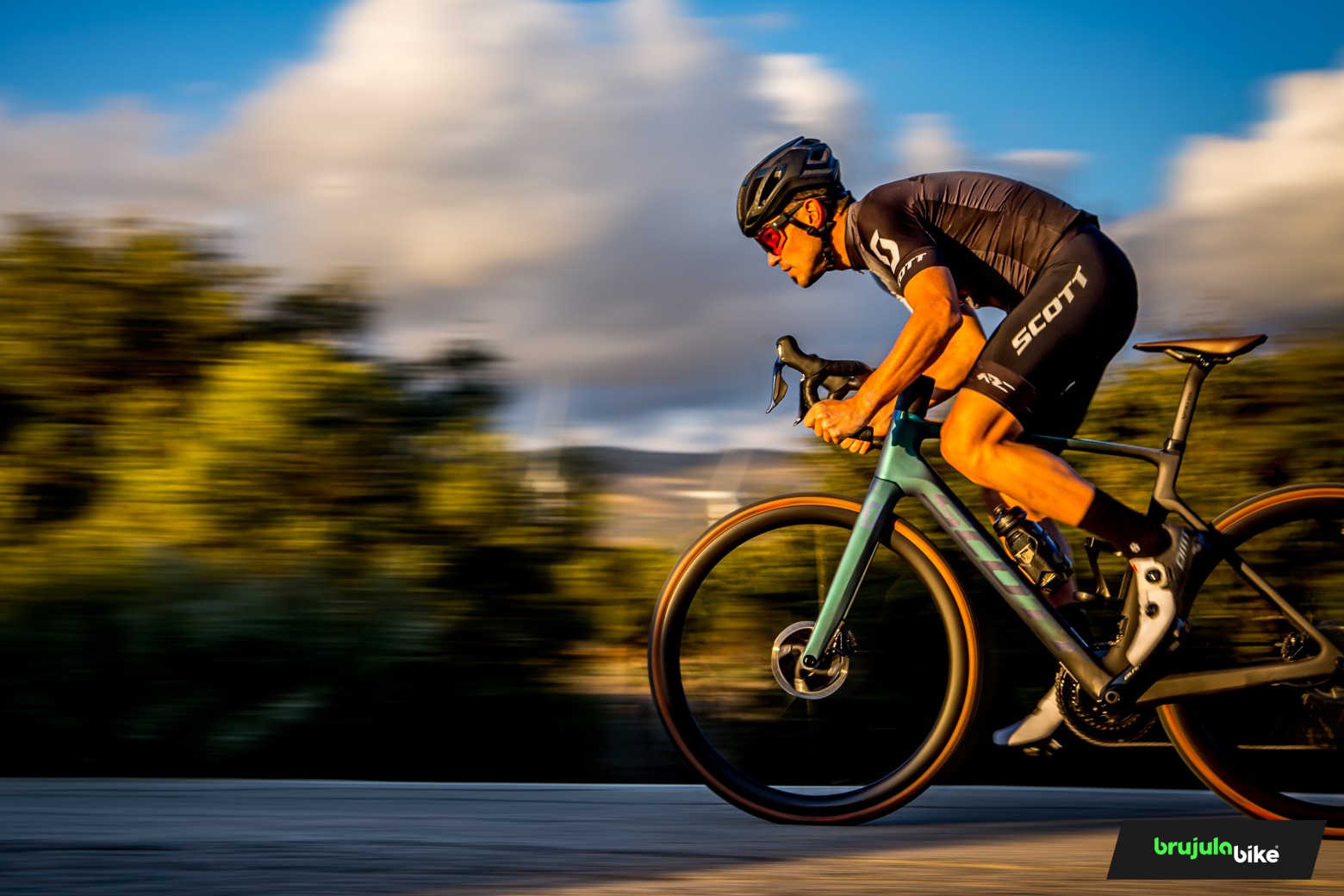 Regarding autonomy, as we have said, it has given us more than we expected with its 250Wh battery, as long as we do not always take it with maximum assistance, which, apart from wasting battery, we do not find sense in it.
In our outings using the assistance in the most logical way, that is, using the low level (green) most of the time, the intermediate level (orange) on medium slopes, and reserving the red level for the hardest slopes, we have accumulated between 950 and 1200 metres of elevation gain, arriving home with around 25% of the battery remaining. We talk about elevation gain because in the kilometres done on the flat, if you exceed 25 km/h, the battery is not used and therefore it is not a good reference.

In case we want to do routes with longer duration and slope we have the option of mounting an extra battery that gives us another 208Wh and would be located in the supports of the second bottle cage.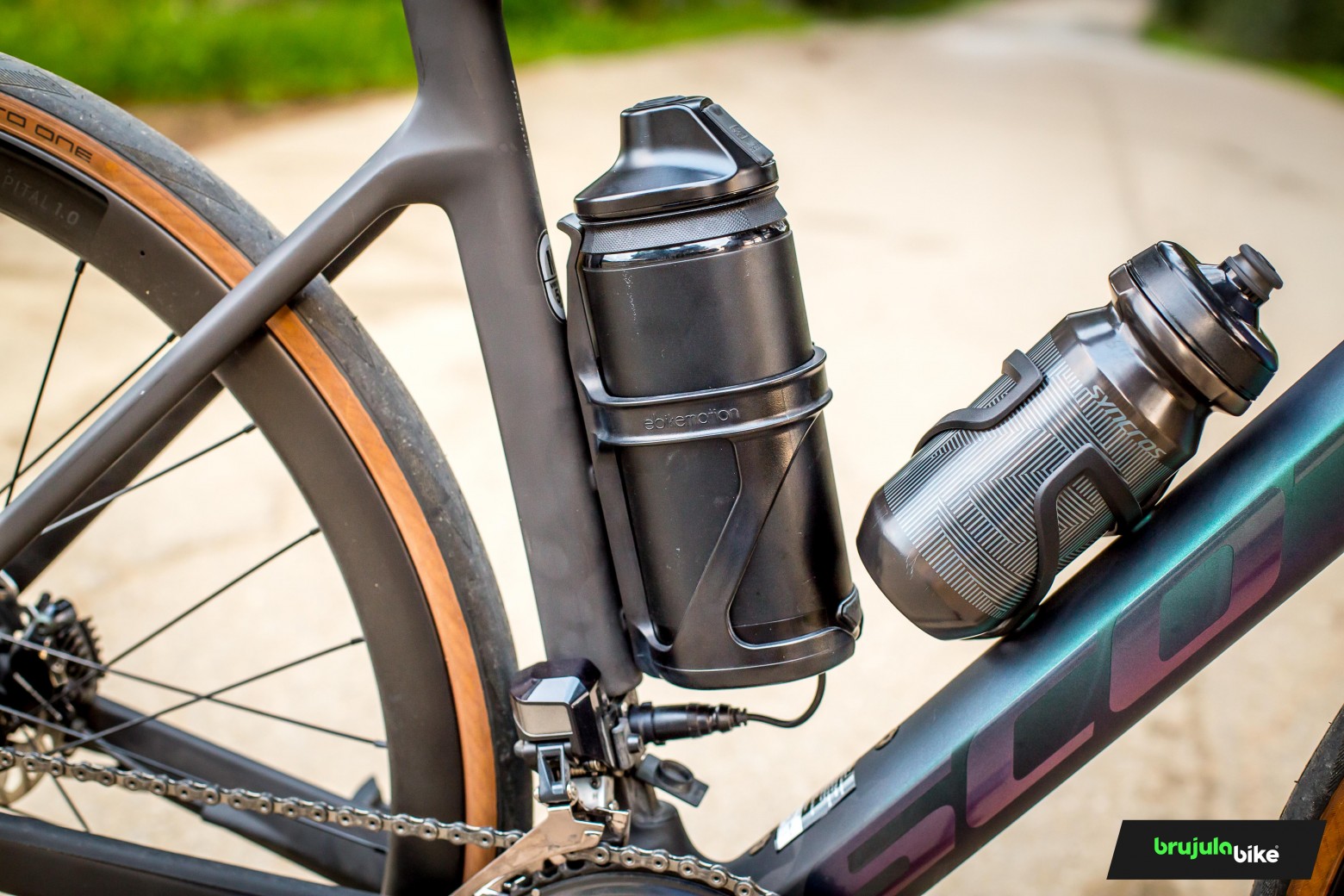 The riding position is very comfortable. It has a tough geometry, although the head tube is contained at 145mm in size 54. The only noticeable difference compared to normal models is the 422mm chainstay length, which is slightly longer than normal.
Despite its weight, it feels agile on the move. And its stiffness means that when pedalling upright, the power transfer to the wheel is noticeable, even without assistance.
On downhills, the extra weight is noticeable, obviously it doesn't have the agility and nerve of an ultralight, but in exchange it gives a lot of confidence when taking curves at high speed.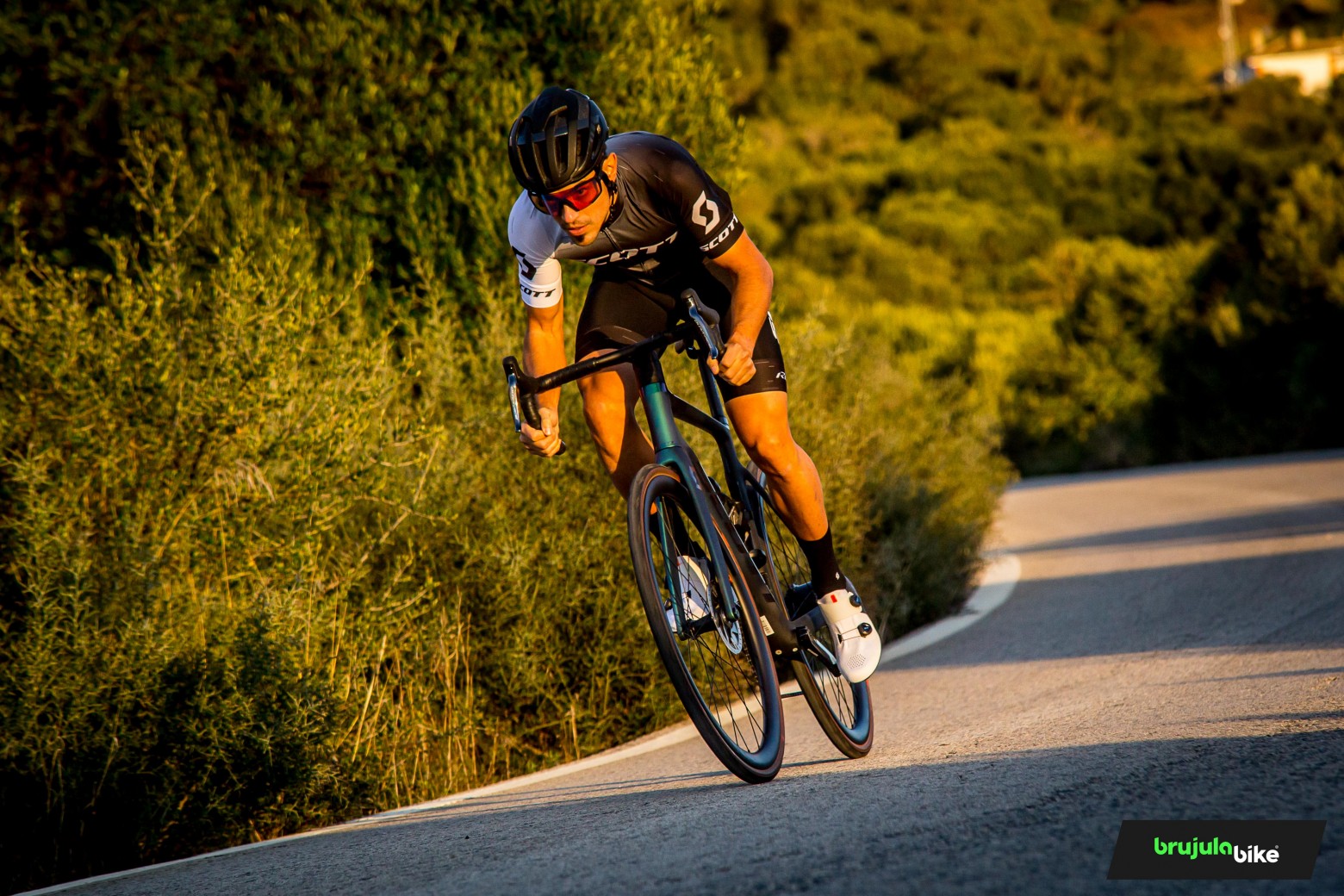 Besides the engine, the bike's performance is exquisite. The Shimano Dura-Ace Di2 is a marvel. The only downside is that with neoprene gloves in winter, the lack of feel sometimes makes it difficult to differentiate each button, but it's just a matter of getting used to it.
We were most impressed by the brakes, which, with 160mm discs on both wheels, are almost overpowering. With very little force on the brake lever you can stop the bike quickly, but you have to be careful when the going gets rough and avoid sudden braking because you can easily lock up.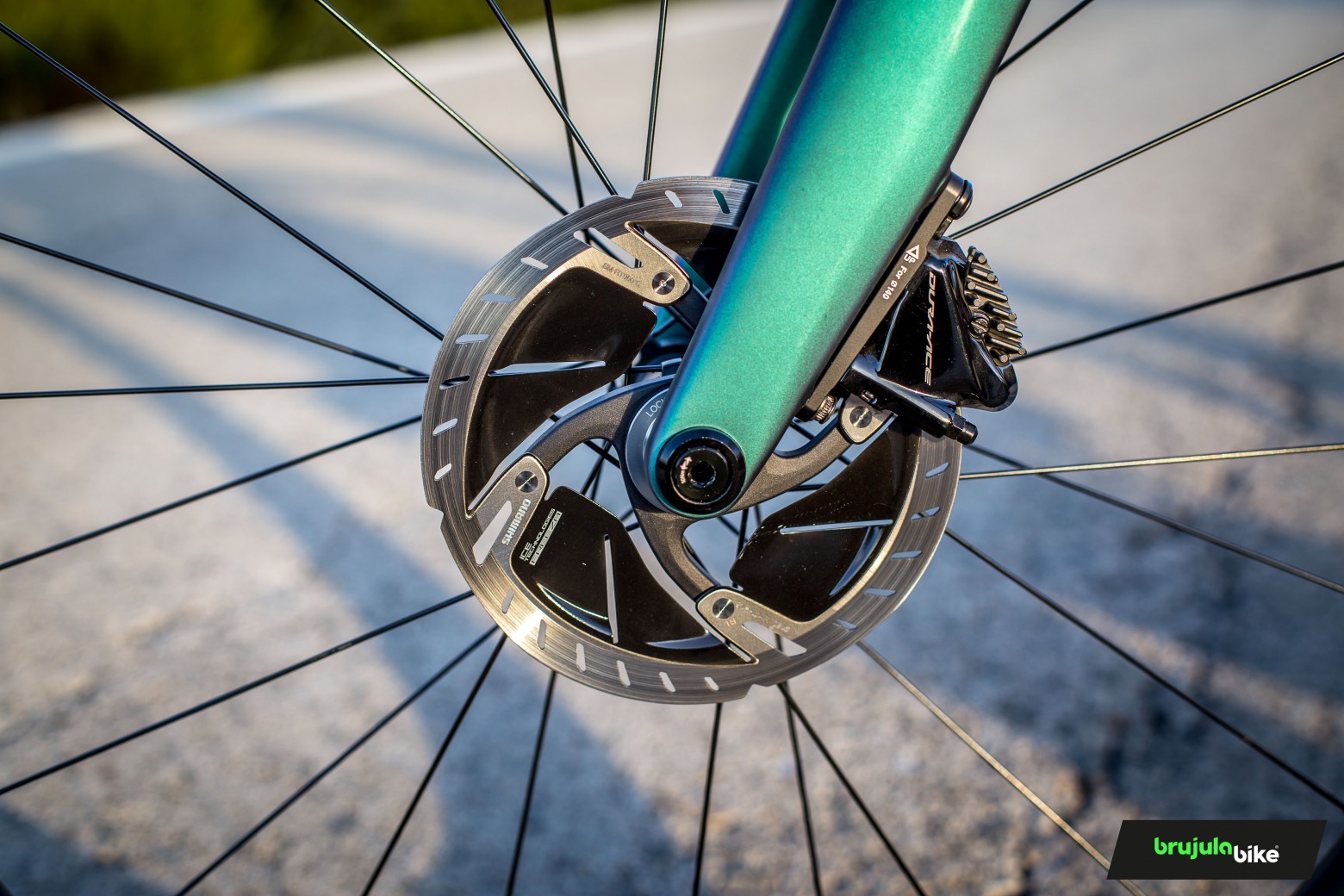 We have found the choice of 30mm tyres, which also are tubeless ready, to be a great success. We gain a lot in comfort and we forget about possible flat tyres.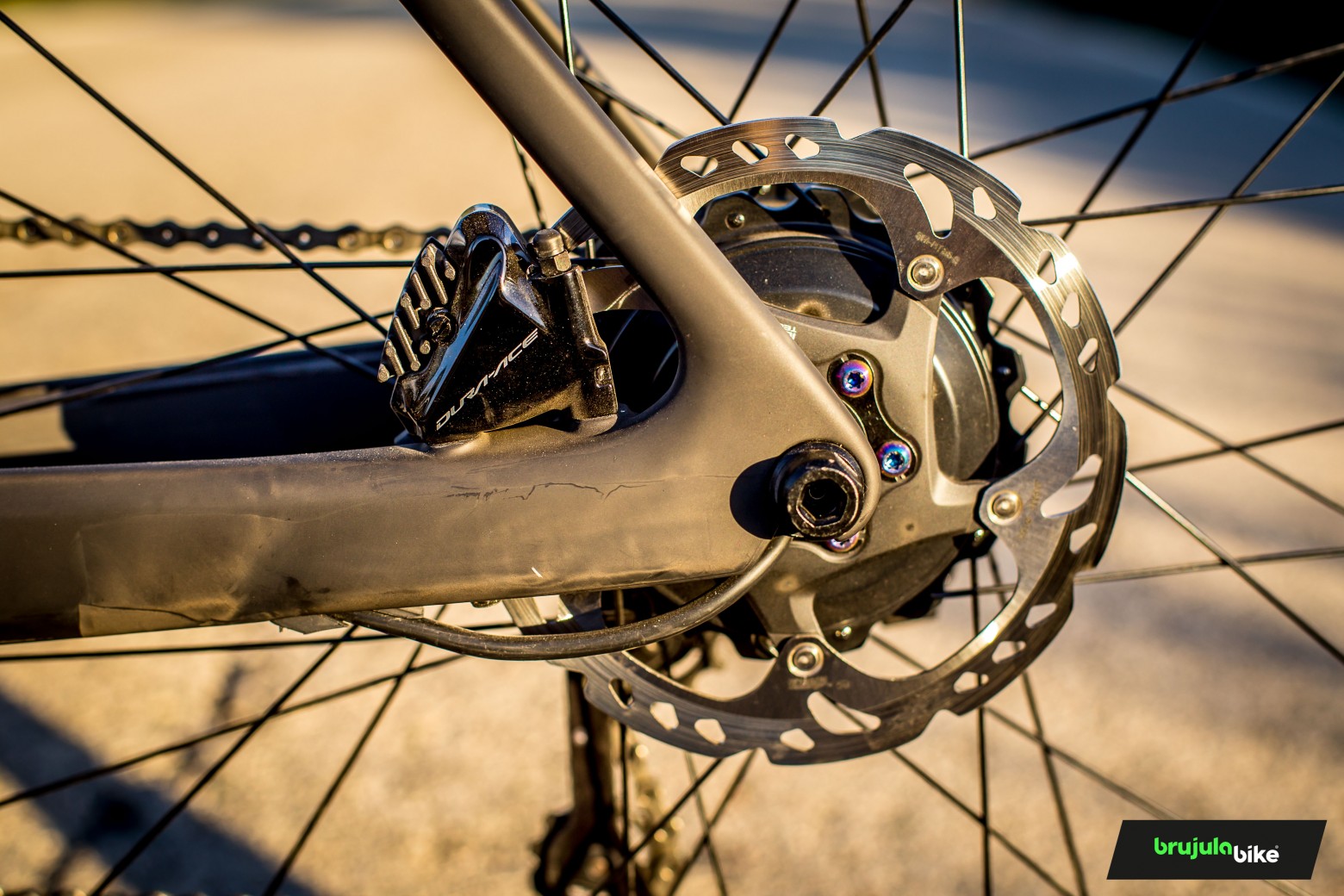 Who is the Scott Addict eRIDE Premium for?
This is a question we normally try to answer in the final conclusions of each test, but this is a special case. This is a bike concept that very few people have tried yet and to which a large number of cyclists are often sceptical and even reluctant. And they are so for two reasons: firstly, as in MTB, not everyone welcomes the inclusion of an engine in a bike, although this is already quite outdated. And on the other hand, there are doubts about how useful it can be on the road, bearing in mind that the assistance is cut off when the speed exceeds 25 km/h.
During the tests we tried to resolve these doubts and try and see what type of cyclist would benefit from a bike like the Scott Addict eRIDE Premium.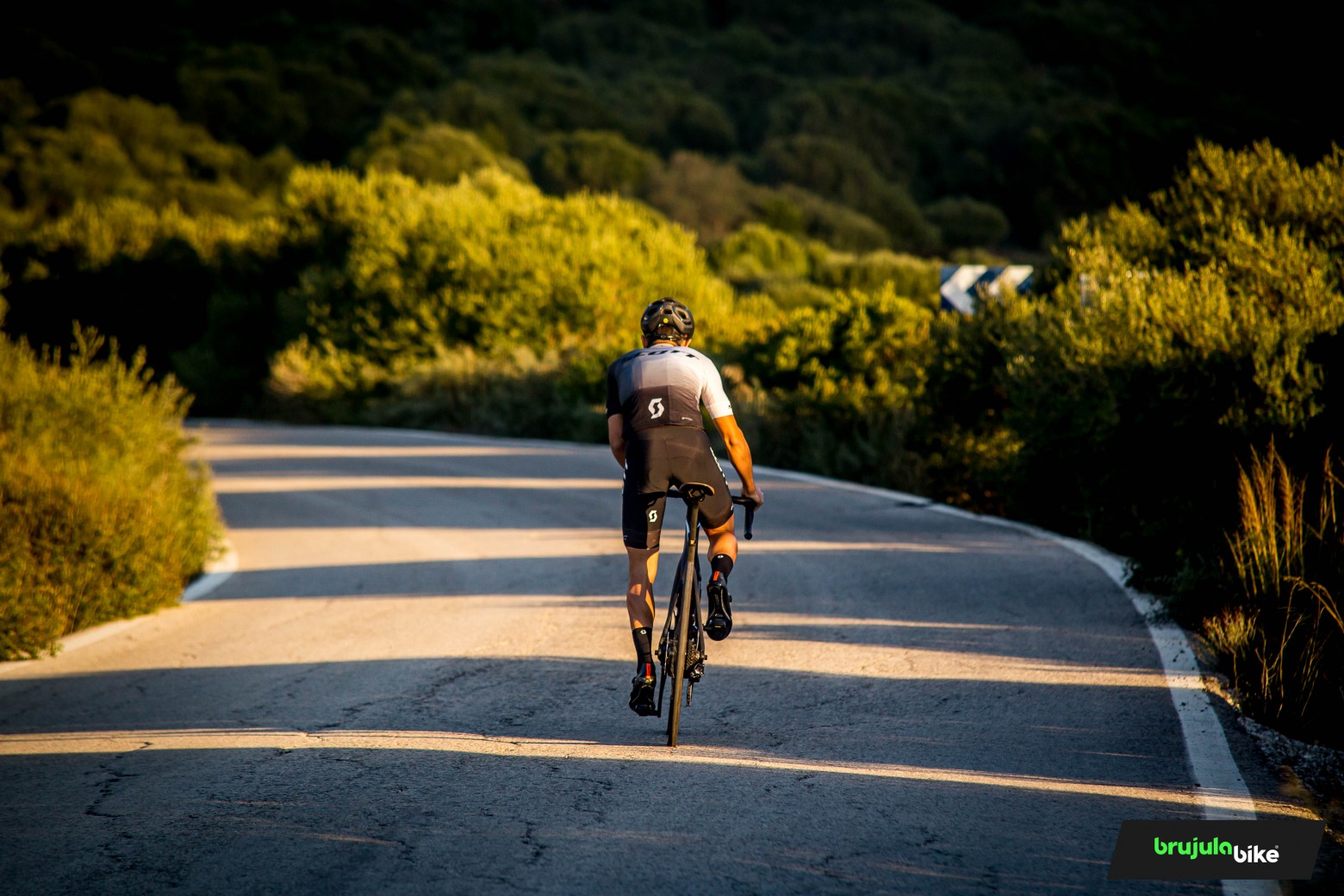 For the cyclist who lives in an environment with a lot of slopes and is somewhat limited in terms of his possibilities to do certain routes, or simply wants to do more kilometres and more slope in his routes, it is certainly the ideal bike.
It is also ideal for cyclists who find it difficult to keep up with their group on certain climbs.
But you have to bear in mind that on the flat, not only does it not help you, but you also carry a little weight, which is not excessive but it is there.
In addition to the aforementioned cases, we also think it is a great tool for cyclists who are doing basic training and do not have flat roads around them. With the Scott Addict eRIDE Premium you will be able to control the intensity of your training even if the terrain has some slopes.
Conclusions
We have enjoyed our tests with a bike that has allowed us to have fun and do something different. We have done routes that we don't usually do because the Addict eRIDE allows you to go further and accumulate more elevation gain.
The sensations are very similar to riding a normal road bike, the pedalling is exactly the same as natural and, in fact, we have arrived home more than once with "sore legs".
The Scott Addict eRIDE Premium is the perfect tool for the cyclist who needs a little extra help or who wants to go further and explore demanding routes.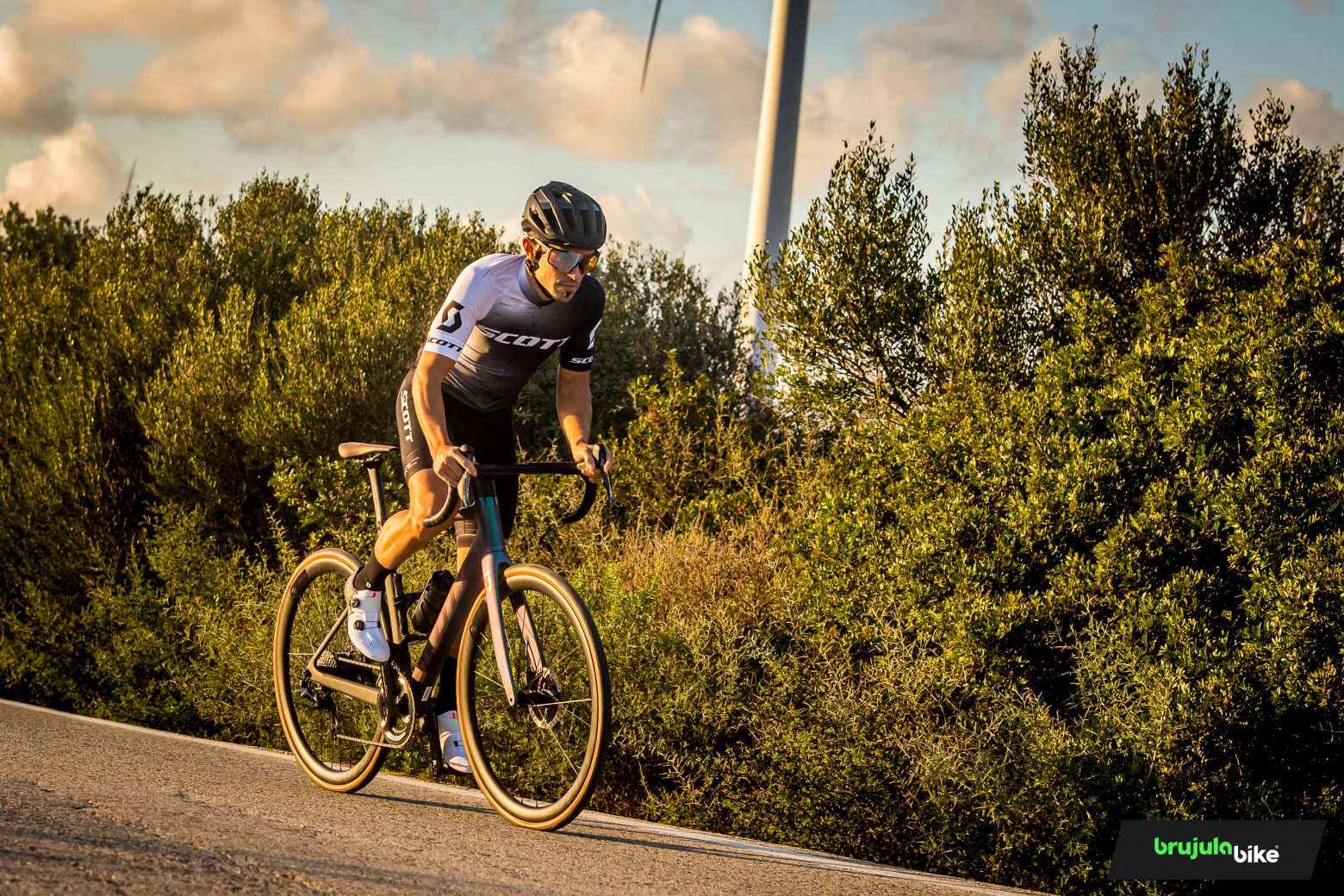 This model is the top of the range and is priced at 9499€, but the range does not start and end with this model. Scott offers three Addict eRIDE models in its catalogue as well as a Contessa Addict eRIDE women's model.
The entry-level price for the range is 4549€ with the Addict eRIDE 20 model fitted with a combination of Ultegra and 105 and claiming a total weight of 12kg, which still seems reasonable for an E-bike.
The Addict eRIDE 10 and Contessa Addict eRIDE 10 models share an Ultegra Di2 groupset and a similar set-up at a price of 6499€.
Scott Addict eRide Premium. Specifications and price
Frame: Addict eRIDE Disc HMX
Fork: Addict eRIDE HMX Flatmount Disc
Motor: Mahle Motor Hub drive 40Nm max Torque / EU: 25kmh / US: 20mph
Battery: Mahle 36V-208Wh + xTra Power Bottle Cage Battery 36v-250W
Rear Derailleur: Shimano Dura-Ace Di2 RD-R9150 22 Speed
Front Derailleur: Shimano Dura-Ace Di2
Shifters: Shimano Dura-Ace ST-R9170 22 Speed Electronic Shift System
Crankset: Shimano Dura-Ace FC-R9100 Hollowtech II 50x34 T
Chain: Shimano Dura-Ace CN-HG901-11
Cassette:Shimano Dura Ace CS-R9100 11-30
Brakes: Shimano BR-R9170 Hyd.Disc
Handlebar: Syncros Creston IC SL
Seatpost: Syncros Duncan SL Aero
Saddle: Syncros Belcarra Regular 1.0
Wheelset: Syncros Capital 1.0 40e Disc 24 Front /32 Rear Syncros Fr thru-axle Re Bolt on
Tires: Schwalbe PRO ONE Microskin, TL-Easy, 700x30c
Price: 9499€
SCOTT ADDICT eRIDE