Interview with Janosch Wintermantel, SCOTT marketing manager, before Badlands: "I've never done anything like this"
The relationship of cycling brands with competitions and events is a constant in the market, but sometimes we forget that the representatives of these brands are just as much cycling fans as everyone else. A good example is Janosch Wintermantel with Badlands.
Janosch is Road, Gravel & Triathlon Marketing Manager at SCOTT and SCOTT is this year's race sponsor. But Janosch will not only be representing the brand, he will be taking the start next Sunday in what is already considered to be the most important gravel race in Europe.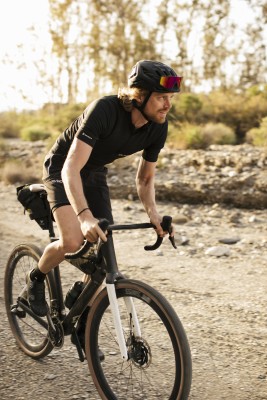 Interview with Janosch Wintermantel before his participation at Badlands 2021
One of the big new features of this year's Badlands was your partnership with SCOTT, is this the first time SCOTT will be at a gravel race? What does this mean for the brand?
Gravel is very important for us, and being a sponsor of an event like Badlands is very important. Here the sponsor is SCOTT Spain even though I am from SCOTT International, but I love this gravel scene and in fact I came here a few months ago for the presentation of the new bike (SCOTT Addict Gravel) so it was important to come back for the event.
We don't know if the SCOTT engineers were aware of Badlands during the development of the new Scott Addict Gravel, but it seems like the perfect bike for this event. What do you think are the strengths of the new Addict Gravel?
I don't think so (laughs) they didn't know about this competition, but it's a perfect bike if you need a fast bike on the road and also on the dirt. It's a bike that has everything for a competition like this, it has a very progressive geometry, it's a very integrated bike with very good aerodynamics, it's very reactive, it's light and it has a lot of bikepacking options. It also accepts up to 45mm tyres. For me it's the perfect bike if you like to race.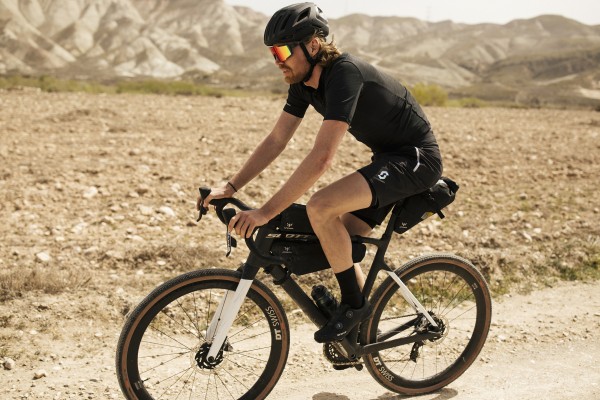 Gravel seems to be the modality that everyone is talking about, both on the road and in mountain biking. What do you think are the reasons for its success?
The gravel bike is associated with adventure, you can go wherever you want. You have almost the same speed as with a road bike and you can also go on almost all mountain bike trails. That's why it's so successful. You have a bike with which you can do almost everything and that's why so many people like it.
Will we see more gravel models in the SCOTT catalogue?
We currently have 4 models of the Addict Gravel. The Tuned, like my personal one, the Addict 10 which comes with Force. The Addict 20 with the new XPLR and the 30 with the GRX and a very nice green colour. The frame is the same on all 4 bikes. This is a complicated question, I can't say much about it at the moment.
You are not only at Badlands as a SCOTT representative, you are also going to participate, what are your expectations of the race, how long do you expect to finish it in?
It's the first time I've done something like this, I don't feel ready for something like this. I know I'm strong enough for 2 or 3 hours but I don't know for 3 days. Let's see. I think my goal will be 3 days. I like to eat and sleep a lot, something that is complicated in a competition like Badlands, so let's see. I think in 3 days or 3 days and a half.
Please tell us a bit about the set-up of your Scott Addict Gravel, have you made any modifications to it for this event?
This is mine (he points to a SCOTT Addict Gravel Tuned), the wheels are Zipp and the rest is pretty much the same as the factory specifications. The bag (he points to a bag fitted to the front triangle) was made by myself. And the other small ones are from a friend (one saddle bag and one mounted on top of the top tube next to the stem).
We were able to talk to your colleague Jochen Haar a few weeks ago and he confessed that at the end of the year he does the most kilometres on his gravel bike. What is your favourite SCOTT bike and which one do you ride the most during the year?
It's this bike (SCOTT Addict Gravel Tuned). In the last 4 months I've only done one day on the road, a few on mountain bike and the rest on gravel.