Sofia Wiedenroth and Jerome Gilloux win first 2021 UCI E-MTB XC World Cup
After a few months of great expectation, the UCI e-MTB XC World Cup finally started with 46 riders on the start line of the Monaco event. A race in which the runner-up of the World Cup, the Frenchman Jérôme Gilloux, and the German Sofia Wiedenroth were proclaimed winners.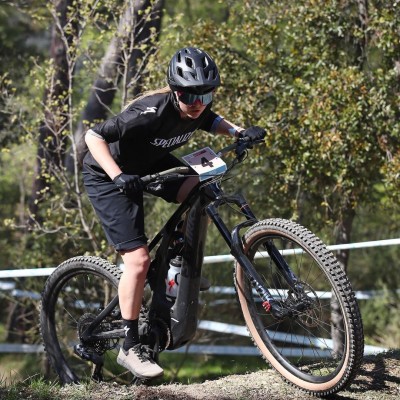 Jérôme Gilloux and Sofia Wiedenroth win first 2021 UCI e-MTB XC World Cup in Monaco
It is undeniable that we are facing a new and somewhat strange modality in the calendar, not only because of the particularity of competing with electric mountain bikes, but also because it brings together riders from both XCO and Enduro. This means that we will see a curious combination of styles, in and out of competition, which we assume will be becoming more homogeneous as the races go by.
After a qualifying round in which the starting positions were decided, the race began on a technical circuit with important uphill climbs, the first of 700 metres at 15%, to which the participants had to complete 6 laps. In addition, the men's and women's categories competed at the same time so traffic was an added complication of the race.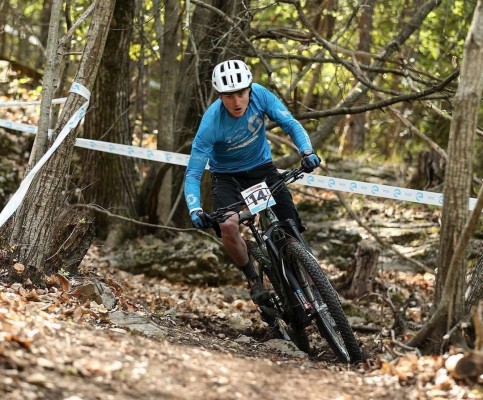 The style we were talking about at the beginning was evident on the downhills, where the XCO specialists traced the route while the Enduro riders always found more straight lines.
In the men's race, Frenchman Jérôme Gilloux (E-Team Moustache), twice runner-up in the Enduro World Championship and current national champion, took an early lead. As did multiple Enduro Corld Champion Isabeau Courdurier (Lapierre Zipp Collective), who managed to lead the women's race by a wide margin at the start.
During the fourth lap, the women's race changed radically after several mechanical problems for Isabeau Courdurier and current World Champion Mélanie Pugin (BH E-Racing team).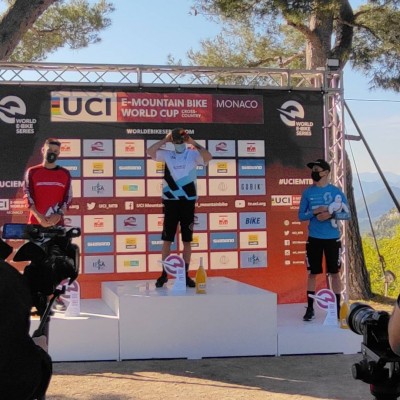 In the men's race Joris Ryf (Bergstrom Werkmannshaft) also suffered a mechanical problem while trying to reach Gilloux. Behind them, the duo of Camoin and Pigeon fought a great battle for third place. But at the finish Francescu Camoin (Specialized) was overtaken by an impressive Frenchman Hugo Pigeon (Scott SR Suntour Enduro Team).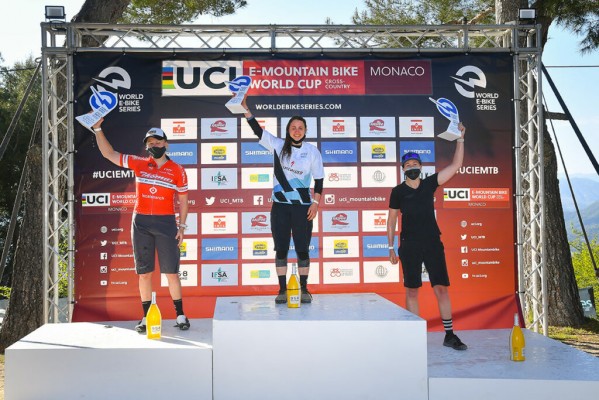 The women's podium was decided by Sofia Wiedenroth (Specialized), second place for Kathrin Stirnemann (Thömus RN Swiss Bike Team) and third place for Karen Pepper (Team Pepper Lapierre).
The winners of the race have also been proclaimed as temporary leaders of the competition and will each wear new leader's jerseys created by Gobik.
Results 2021 UCI e-MTB XC Women's World Cup Monaco
Sofia Wiedenroth (Specialized) GER
Kathrin Stirnemann (Thömus RN Swiss Bike Team) SWI
Karen Pepper (Team Pepper Lapierre) GBR
Results 2021 UCI e-MTB XC Men's World Cup Monaco
Jérôme Gilloux (E-Team Moustache) FRA
Joris Ryf (Bergstrom Werkmannshaft) SWI
Hugo Pigeon (Scott SR Suntour Enduro Team) FRA
Video highlights of the 2021 UCI e-MTB XC World Cup in Monaco